In 2013, LuxDev launched the Climate Adapted Local Development and Innovation Project (VIE/033), benefiting 29 poor and vulnerable communes in three districts of Thua Thien Hue province.
The project's primary aim was to protect people's livelihoods and strengthen their resilience within a context of increasing climate shocks and stresses, including more frequent typhoons, more severe floods in the rainy season, droughts in the dry season and a substantial loss of land to the ocean.
The Final Evaluation report found that by end 2017, the project had contributed to sustainable, equitable and efficient trends of poverty reduction and adaptation to climate change.
These achievements were attributed to project interventions with relative certainty, because the outcomes were measured based on the pre and post data collected by the project Monitoring and Evaluation system.
To further test and confirm its impact on target beneficiaries, the project also conducted the Randomised Control Trials study, to help establish whether the achieved outcomes were natural, or rather induced by the project's many interventions.
This at a time when the team for the final evaluation was on the ground Typhoon Damrey, one of the worst storms to hit Vietnam in years, made landfall on 4 November 2017 with devastating consequences for the central provinces of Khanh Hoa, Phu Yen and Quang Nam, where people rely heavily on rice and fish farming.
At least 106 people have died and thousands of houses have been damaged.
It was the worst storm on record since 2001.This exceptional situation of a natural disaster in the project area made it possible to compare the resilience of assisted households to non-beneficiaries.
The Randomised Control Trials are a technical evaluation that allows estimating the impact achieved by the project intervention. The validity of the estimate stems from a comparison of the beneficiaries (Treatment Group) to non-beneficiaries (Comparison Group) at the beginning as well as end of the project.
Read our capitalisation note about the Randomised Control Trials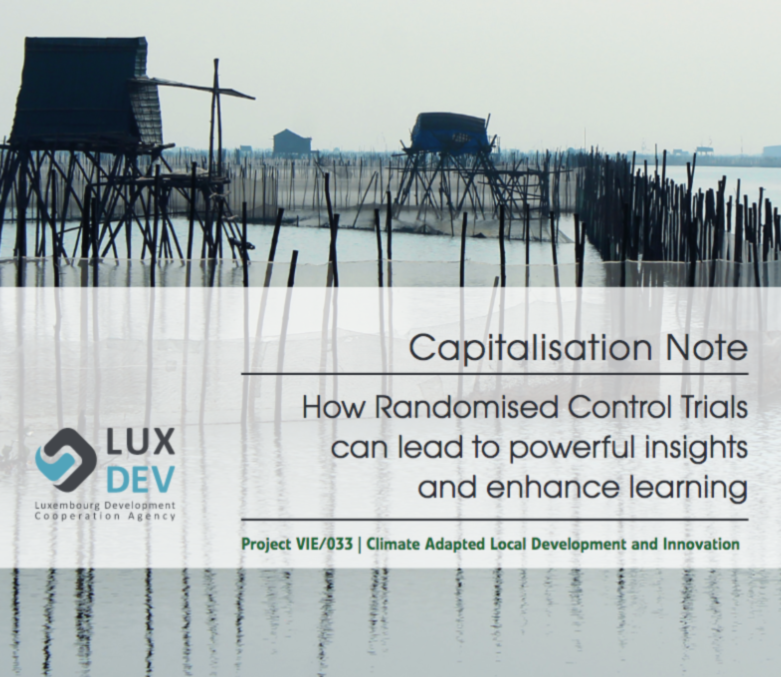 ↑ Haut de la page