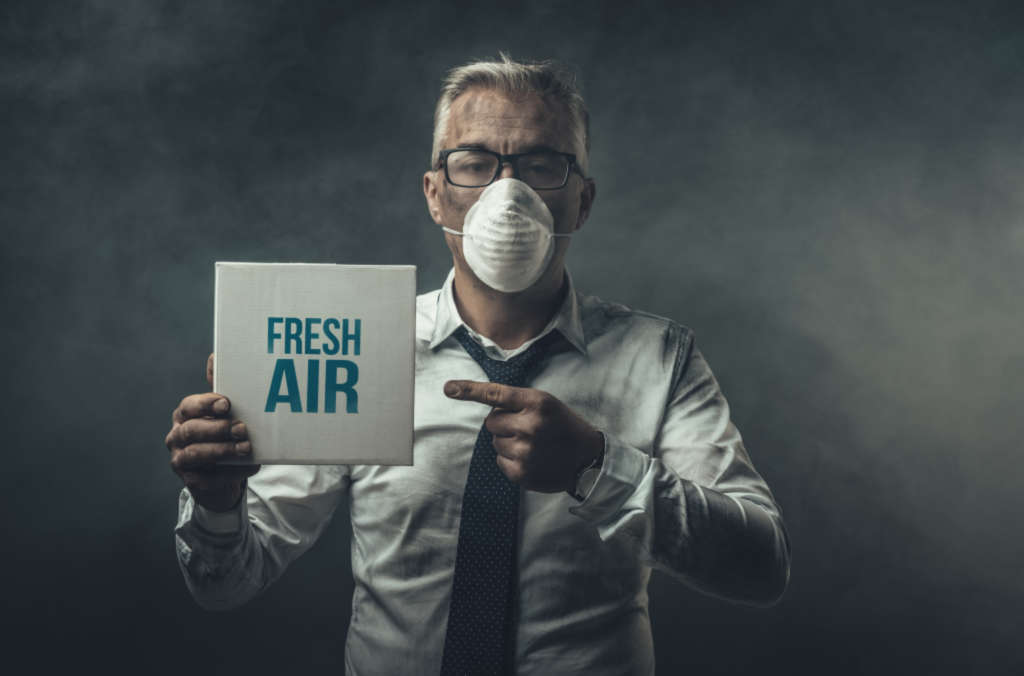 Air pollution is a critical environmental problem around the world. Many health issues, including mortality due to cardiovascular and respiratory diseases, lung cancer and intrauterine growth restriction (low birth weight at term), are associated with poor air quality. According to the World Health Organization (WHO), in 2015 polluted air was responsible for 6.4 million deaths worldwide. Globally, this is greater than deaths caused by AIDS (1.2 million), tuberculosis (1.1 million) and malaria (0.7 million).
Poor air quality remains a challenge in urban areas across Kosovo. The Air Quality Index (AQI), described in table 1, is followed by the United States Embassy in Pristina and shows that the air quality is far below the healthy breathing levels on most days during the winter season, as can be seen in figure 1. During the last two years, the AQI has reached values as high as 500, which is considered hazardous for health. The main sources of contaminants are power plant emissions, residential coal or wood burning and vehicle emissions.
Table 1. AQI categorisations
Note: To make it easier to understand, the AQI is divided into six categories as presented in this table.
Source: United States Embassy in Pristina
Figure 1. AQI in Pristina, 1 January 2017 – 1 April 2019
Note: AQI data from 01 January 2017 – 1 March 2019
Data Source: Environmental Protection Agency Air Now
According to an analysis conducted by the World Bank in 2013, the air pollution in Kosovo is estimated to cause 852 premature deaths, 318 new cases of chronic bronchitis, 605 hospital admissions and 11,900 emergency visits each year. As reported by the same analysis, the estimated health costs of air pollution in Kosovo were between 38 and 163 million EUR a year, with a midpoint estimate of 98 million EUR, or 2.3 percent of GDP in 2010.
During an event organized by UNICEF related to the health impact of air pollution in Pristina, Dr. Ruthus Edwards, whose research focuses on human exposure to air pollution emissions and subsequent health effects, suggested a number of measures that can be taken to reduce emissions from the household sector, which in turn would contribute to the improved air quality in Kosovo. Such measures include:
- Expansion of district heating for central urban areas;
- Usage of heat pumps or other zero household emission technologies;
- Improvement of energy efficiency;
- Transition to renewable energy sources to decrease sector emissions.
During this event, the Minister of Health, Uran Ismaili, expressed his concerns about the health impact of air pollution in Kosovo and asked for a better coordination among local and central government units as well as international organisations to address this issue.
Nevertheless, given the current lack of a strategic roadmap to reduce the health impact of air pollution in Kosovo by addressing the root cause of the problem, temporary solutions had to be thought of. For instance, LuxDev in Kosovo has provided its employees with N95 air pollution masks, which can reduce their exposure to the polluted air when it exceeds the healthy breathing levels and provided indoor air filters for all offices.
↑ To the top