This Friday 20 October 2023, LuxDev had the pleasure of welcoming an interministerial delegation from Vietnam, who were visiting Luxembourg as part of a study tour on green bond market, and more specifically the Vietnam Green Bonds Readiness project financed by the Ministry of the Environment, Climate and Sustainable Development and implemented by the Global Green Growth Institute (GGGI).
The key objective of this visit organised by GGGI Luxembourg was to upscale the technical capacity of the Government of Vietnam in promoting and implementing sustainable finance initiatives. This proposed mission aimed tp facilitate the sharing of best practices from Luxembourg's sustainable finance market players to Vietnam's policymakers via onsite consulting and networking.
The delegation was made up of policy-makers from various departments and ministries involved in the process of developing sustainable financing strategies for Vietnam (Ministry of Finance, Ministry of Planning and Investment, Ministry of Natural Resources and Environment, Ministry of Justice, State Treasury and The Office of Government).
This meeting took place at a time when LuxDev is engaging more on more in the sustainable and impact finance field through several initiatives. It was not only an opportunity to share what the Agency is planning to do in Vietnam in the coming months, but also to facilitate a space for knowledge sharing and exchange.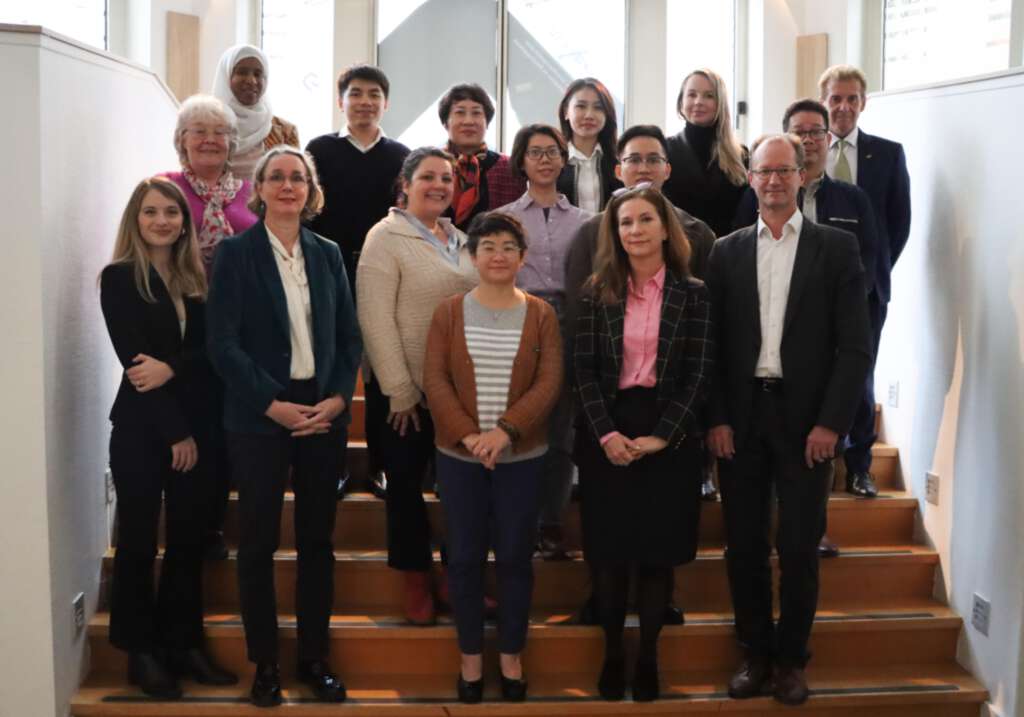 Gain a better understanding of the microfinance ecosystem
Over the course of a morning, the delegation familiarised itself with the Luxembourg microfinance ecosystem, through presentations by several players in the market, punctuated by discussions and question-and-answer sessions.
After a welcome from Max GLESENER, Programmes Director of LuxDev, and introductory remarks from Julie GODIN, Manager - European Partnerships for GGGI, and Pham THI THANH TAM, Head of Vietnam Delegation and Deputy Director General of the Department of Banking and Financial Institutions at the Vietnamese Ministry of Finance, Irene PANCHERI, Project Manager for InFiNe, gave an overview of the inclusive finance ecosystem in Luxembourg and explained the role of a network such as InFiNe.
Ilya SVERDLOV, Director Global Partnership and Donor Relations at the Alliance for Financial Inclusion (AFI), and Zuzana CHOVANCIK BLAHUT, Events Manager at AFI, then presented the roadmap for green inclusive finance and the role of regulators and policy-makers.
Nitin MADAN, Director Responsible Inclusive Finance Facility for South-East Asia at the Social Performance Task Force (SPTF), explained how responsible inclusive finance can support the financial sector in ensuring client protection.
Finally, Axel DE VILLE, Director Strategy and Innovation at the NGO ADA - Appui au développement autonome, and Francesca RANDAZZO, expert in sustainable and innovative finance at LuxDev, illustrated how to link climate and green growth objectives, respectively through the Inclusive Climate Finance for Communities in the Asia Pacific programme and the Finance for Resilience in Vietnam project.
Focus on a new project in Vietnam
Building on the experience gained through project VIE/433 - Climate adaptation and resilience in Thua Thien Hue Province, the Finance for Resilience in Vietnam project, currently being formulated, aims to improve the climate and economic resilience of small-scale farmers and entrepreneurs, particularly women, by :
better connecting farmers, cooperatives and SMEs in selected value chains in Thua Thien Hue to markets;
providing better access to financial and non-financial services.
With a budget of MEUR 2 for a period of 24 months, this project should start in the first quarter of 2024.
↑ To the top