Cabo Verde on stage at COP26
Side event on strengthening Cabo Verde's climate governance and action
What was the event about?
The new indicative cooperation programme for 2021-2025 has been identified along the nexus of Development-Climate-Energy and will combine official development assistance and Luxembourg's international climate finance. It is with Cabo Verde that climate issues enter for the first time into a Luxembourg indicative cooperation programme. A new support project of 10 MEUR (supported by Luxembourg international climate finance) intends to strengthen climate governance and climate action.
This side event was about presenting and discussing the results of relevant preparatory work that was conducted in 2020: reviewing and updating the Nationally Determined Contributions, Cabo Verde's emission reduction plans, as well as the National adaptation plan, both building blocks for the new Climate governance and climate action project.
Two representatives from Cabo Verde's government and beneficiaries of the new support project (Mrs. Agueda de Burgo, Director of the National Department of Environment, and Mr. Rito Évora, Director National Department of Industry, Commerce, and Energy) shared insights on how the project will combine emission reductions with socio-economic development and climate resilience of the citizens, ecosystems, the built assets.
Why did Cabo Verde organise an event on the side lines of COP26?
Side events at climate conferences are among the best possibilities to show presence share information with an interested international target audience, and hence increase the visibility of a country's climate actions.
Cabo Verde as a lusophone small island development state faces many challenges at COPs to be heard and to find relevant allies in negotiations when loss and damages or small island development states are discussed. The climate governance component of the new Climate governance and climate action project aims at strengthening the capacities and of key government counterparts and civil society and intends to build the necessary skillset for their successful and vocal participation in future COP negotiations.
How was the event received?
The event took place at the EIB/Benelux pavilion in front of 10-15 people and was livestreamed on the EIB-COP26 platform to increase the outreach.
Representatives from Cabo Verde welcomed the opportunity to present and discuss with the moderator (environment and climate change expert from LuxDev) and a representative from the Luxembourg Ministry of European and Foreign Affairs the preparatory work conducted, as well as the needs and challenges for this new project.
The feedback was positive from both: participants in the room as well as followers online.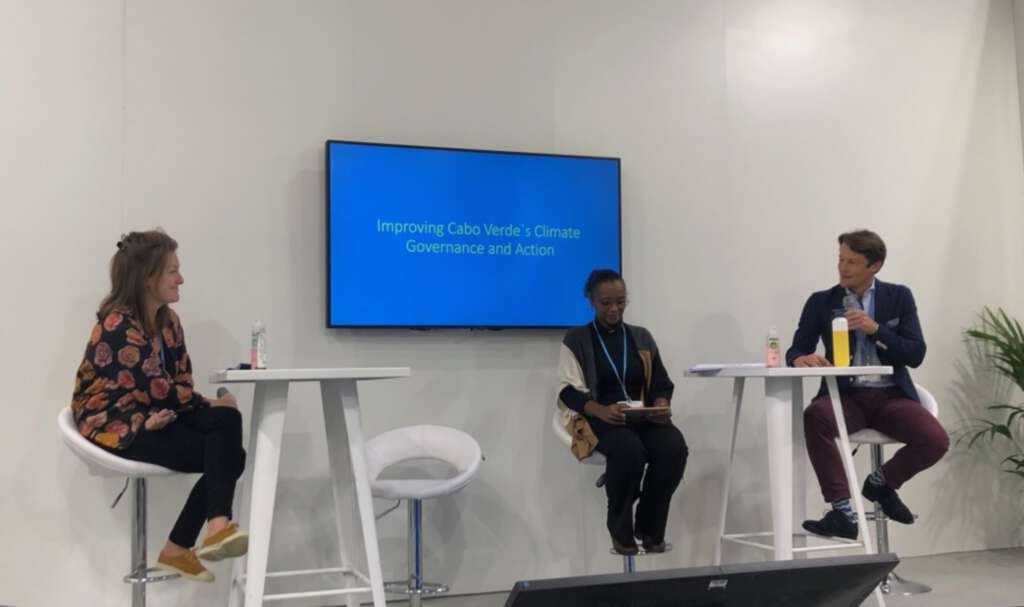 Mrs Virginie Gilbert (Climate change and NGO desk officer, MEFA), Mrs Agueda de Burgo, Director of the Cabo Verde National Department of Environment, Baas Brimer (Environment and climate change expert, LuxDev)
The Cabo Verde office of LuxDev in Praia liaised with the different partner Ministries and assisted in the preparation and logistics of the Cabo Verdean Delegation to attend COP26. LuxDev headquarters coordinated with the main organisers, the EIB team who managed the pavilion and the Ministry of Environment, Climate and Sustainable Development who coordinated the events with the Benelux partners.
↑ Haut de la page