LAOS - Adjusted approaches to virtual during the COVID-19 lockdown
On 22 April 2021, the Lao Government had announced the countrywide lockdown, affecting all sectors of society not least in Vientiane. Pursuant to the Prime Minister's Order No. 15/PM, dated 21 April 2021, on COVID-19 Prevention and Controlling Measures, suggested all the government offices to initiate rotation staff except the Ministry of Public Security, Ministry of Defense, Ministry of Health, firefighters, electricity and public water supply officials, communication officials and task force committee officials. Furthermore, the Ministry of Education and Sport issued a notice for the educational institutions to be closed until further notice and that remote learning would be implemented as appropriate.
As a result, all activities of both the LAO/031 project and its counterparts went temporary virtual, as illustrated below through a few examples.
The Ministry of Justice (MoJ) has dealt with the lockdown by scheduling a rotation for respective staff, necessary because domestic bureaucratic procedures are conducted through paperwork. However, the internal communication is generally done via WhatsApp and phone call. The physical meetings are occasionally organized within the conditions set forth by the government, with no more than 10 individuals in attendance.
The Institute for Legal Support and Assistance (ILSTA) has adapted to move to online delivery of training events, and their e-learning platform has been in greater demand during lockdown. ILSTA produces e-Lectures on a range of legal topics based on their Technical Guides which are taught during ILSTA workshops throughout the country and are preparing new online content for capacity building. Examples of this revised modality has included Open Lectures scheduled at the Faculty of Law with online Q&A sessions, as well as e-Lectures with quizzes on the subject matter for more than 270 judiciary and law enforcement officers in all provinces. Furthermore, the English for Law training programmes, including placement testing of new students for the course had to be completed online. This has necessitated developing instructions on how to use apps such as Zoom, the translation of the learning platform (Vedamo) into Lao and circulation in Whatsapp messenger groups, trial classes and training of students in how to access and take part in online lessons. To further facilitate effective participation, students are provided with monthly mobile broadband top-up to enable them to access classes. Based on this experience, ILSTA will continue to develop, deliver and facilitate training and engage with beneficiaries through online forums, viewing it as an opportunity for Lao government staff to enhance their ICT skills and to open up to the world of online learning.
The Faculty of Law and Political Science (FLP) of the National University of Laos has launched E-Learning of the five-study programmes to keep the teaching and learning practice on track including: Civil Law, Criminal Law, Business Law, Political Science and International Relations Department. The faculty members have conducted remote learning and disseminate the materials through multiple channels including WhatsApp, Messenger, Google Classroom, Zoom and e-mail. Aside from the instructors' E-Lectures, students are assigned to collaborate in small groups on research, presentations and interaction sessions. Following that, these students are required to submit their assignments on the due time. Nevertheless, given the lack of online teaching and learning experience, not all faculty members have found themselves able to deliver lectures remotely.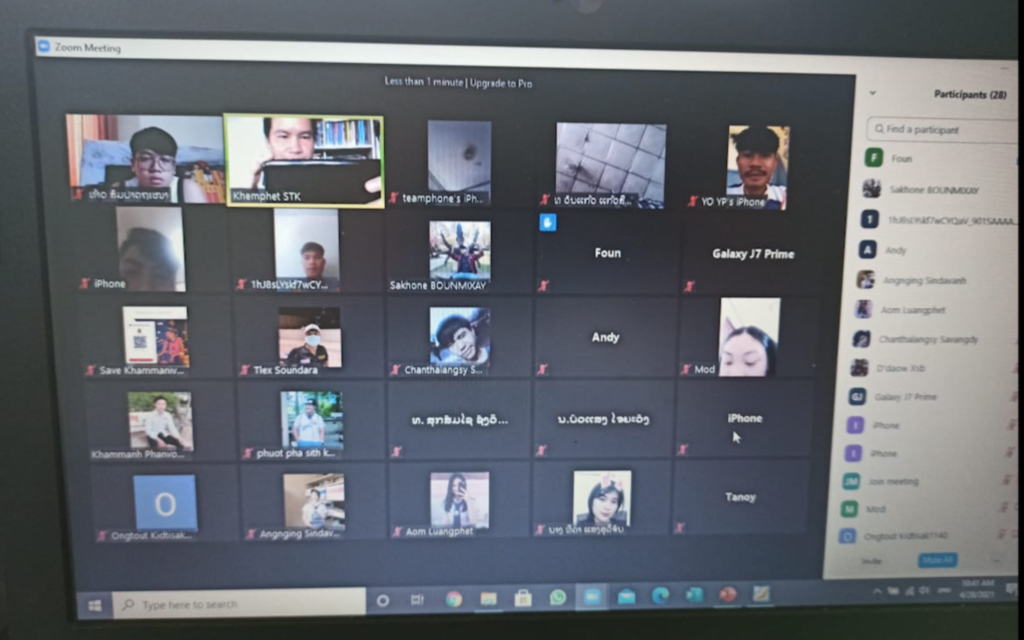 The National Institute of Justice (NIJ) has also transferred all the learning and teaching activities online instead of the temporary closure, with students attending the virtual classes via computers and mobile phones. However, challenges still to be addressed include a lack of proper equipment, facilities and steady internet connection for both faculty members and students, the need for intensive instruction for teachers on how to use e-learning resources, and the need to enhance students' knowledge of how to optimize the benefits of remote learning.
In contrast to the FLP and NIJ, the Faculty of Law and Administration (FLA) of Champasak University has not implemented remote learning, finding that most of students in provinces unlike students in the capital are unable to make this transition due to lack of capacities, the availability of learning tools and stable internet connections.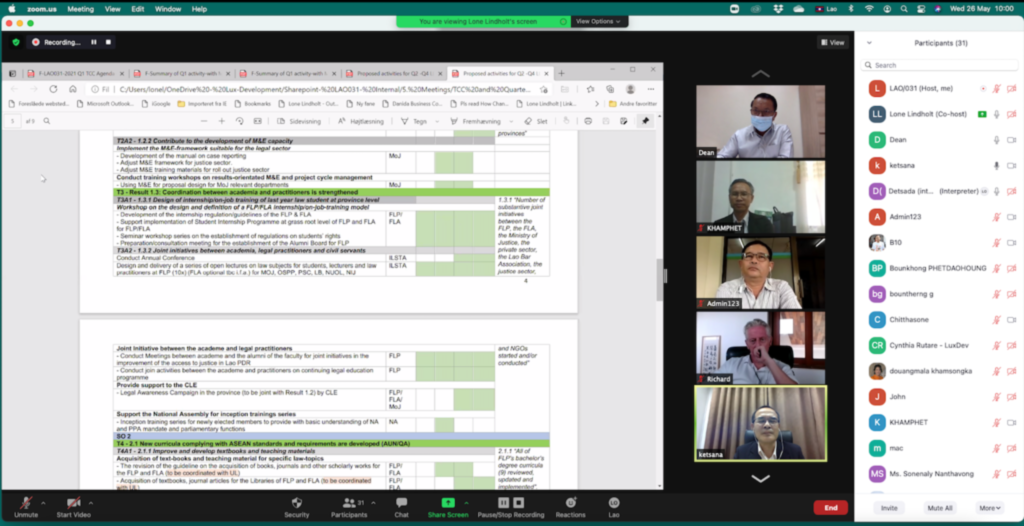 Lastly, the LAO/031 project team has also adjusted all aspect of work to online, from partner support, team collaboration over financial administration. In early May 2021, the annual project audit by the external auditors from Ernst & Young Global Limited was conducted remotely. Switching from mainstream to remote auditing enable auditors to inspect the records anywhere on their convenience; however, this required a massive effort in terms of scanning all supporting documents, a far more time-consuming process than merely consulting binders of physical documents and being able to ask for clarifications from the related staff, which is instead done by e-mail. Furthermore, on 26 May LAO/031 hosted a Zoom-based Technical Coordination Meeting with more than 30 stakeholders from the partner institutions including the universities and justice sector institutions, Luxembourg Development and the Embassy. Successfully conducting the meeting virtually, with each participant connecting individually, sharing of documentation, discussion and exchange, with simultaneous translation Lao/English, is a positive indicator of the capacity and willingness of also the Lao stakeholders to adopt to this new reality – although IT-infrastructure especially outside the capital continues to challenge bridging the gap between the capital and provinces.
LAO/031 project is financed by the Grand Duchy of Luxembourg and implemented by LuxDev, the Luxembourg Development Cooperation Agency.
↑ Haut de la page