LAOS – Ongoing health support during the COVID-19 pandemic
The Grand-Duchy of Luxembourg, through the Lao-Luxembourg Health Sector Support Programme Phase II (LAO/027), is deeply involved in supporting the Government of Lao PDR in its COVID-19 preparedness and response.
As the country weathers a spike in the number of COVID-19 cases, the LAO/027 programme continues to coordinate with the Ministry of Health and other international partners to minimise the impact of the COVID-19 pandemic on the national healthcare system.
As part of Luxembourg's COVID-19 grant support, three 'Decontamination Unit' vehicles and decontamination equipment were handed over to the Ministry of Health in January 2021 to strengthen provincial authorities' ability to respond to potential coronavirus infections.
These Decontamination Unit vehicles are today fully operational in the three provinces of Vientiane, Bolikhamxay and Khammouane. A team of well trained and equipped professionals is currently providing a rapid and mobile response in each of the three provinces. The Decontamination Unit is responsible for the disinfection and decontamination of healthcare and non-healthcare settings potentially contaminated by coronavirus such as isolation facilities, hospitals, official buildings as well as other locations where suspected, probable, and confirmed cases of COVID-19 have been.
Decontamination at a quarantine centre in Phonhong, Vientiane Province (March 2021) © LuxDev
Disinfection at a COVID-19 treatment facility in Khammouane Province (April 2021) © LuxDev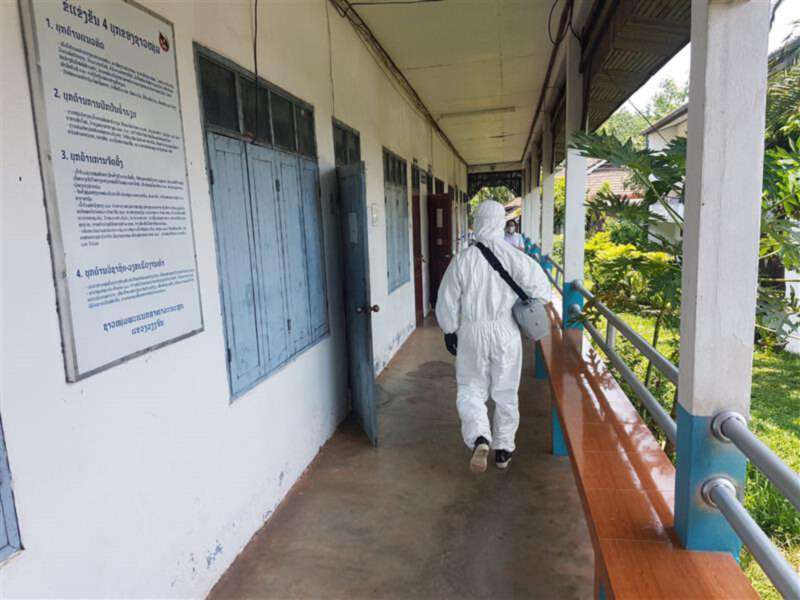 Disinfection at the Provincial Health Department (PHD) Office in Vientiane Province (April 2021) © LuxDev
Disinfection at the Bolikhamxay Provincial Hospital (April 2021) © LuxDev
Each decontamination vehicle contains essential equipment, including rechargeable battery nebulisers, disinfectants, cleaning materials, and other supplies such as protective equipment, goggles, boots, and gloves.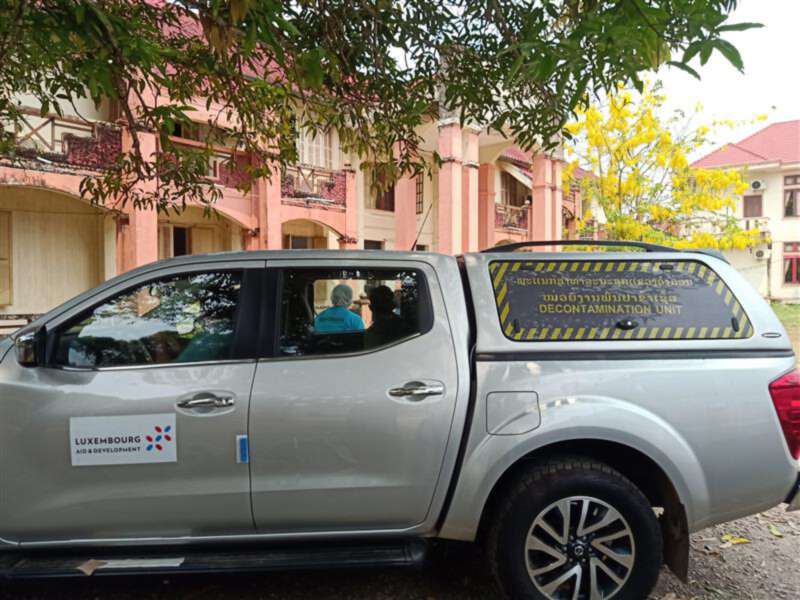 Decontamination Unit' vehicle (April 2021) © LuxDev
As the number of new cases continue to increase, the request for decontamination is outpacing the current capacities. The LAO/027 programme has provided the mobile teams with additional emergency sanitation supplies and nebulisers.
Decontamination at a local market in Vientiane province (May 1st, 2021) (pictures published on social media)
Luxembourg, through its membership of GAVI, the Vaccine Alliance, is also supporting the distribution of free vaccines in Lao PDR. The country has received its first batch of COVID-19 vaccines through the COVAX Facility in March 2021. The shipment consisted of 132,000 doses of the SII-AstraZeneca vaccine and it was the first batch of a total of 480,000 doses that are being planned for delivery to Laos via the COVAX initiative by May 2021.
The Lao-Luxembourg Health Sector Support Programme Phase II (LAO/027) is co-financed by the Government of Lao PDR and the Grand-Duchy of Luxembourg and is implemented by the Lao Ministry of Health and LuxDev, the Luxembourg Development Cooperation Agency.
↑ Haut de la page