LAOS – Strengthening Human Resources for Health through Scholarships
The story of Dr Thialor, Laotian doctor working in a remote mountainous area and beneficiary of a Luxembourg funded scholarship for a specialisation in Family Medicine
Xaychamphone district is a remote and hard to reach mountainous area located in Bolikhamxay Province, central Laos. The district stretches along the border with Vietnam, is sparsely populated and is one of the poorest districts in Bolikhamxay province.
The Xaychamhone district hospital is a type B hospital with 15 beds and with no capabilities to provide surgeries. The 29 health personnel, currently working in Xaychamphone district, provide curative and preventive health care services to 17 villages and to a target population of 10,800 people, mainly farmers, among whom 64,2 % are considered to be poor (World Bank, 2016).
One of the leading doctors at the Xaychamphone district hospital is the 34-years-old Dr Thialor Saysue, the only female doctor with a specialisation in Family Medicine. She graduated as a medical doctor from the University of Health Sciences in Vientiane capital in 2011, and thereafter received a two-year scholarship funded by the Government of Luxembourg to study Family Medicine at the same University from 2015 until 2017.
The Family Medicine curriculum prepares young medical doctors to work independently in remote and isolated conditions. The doctors acquire additional skills to handle pediatric emergencies and to perform some surgical and obstetrical procedures, besides learning how to manage community health assessments and interventions, including outreach village health programmes.
Dr Thialor was filled with immense joy when she learned that she would receive a scholarship from Luxembourg. She hopes that other people in her community can receive similar opportunities.
Photo credit: Humanitarian Media Agency (HUMA)
After her specialisation, Dr Thialor was determined to apply her newly acquired knowledge and skills to the benefit of her village and community in Xaychamphone district. Besides her daily work of treating patients at the district hospital, she is also responsible for delivering preventive health care services in the surrounding villages where most of the population belong to the Hmong ethnic group, like herself.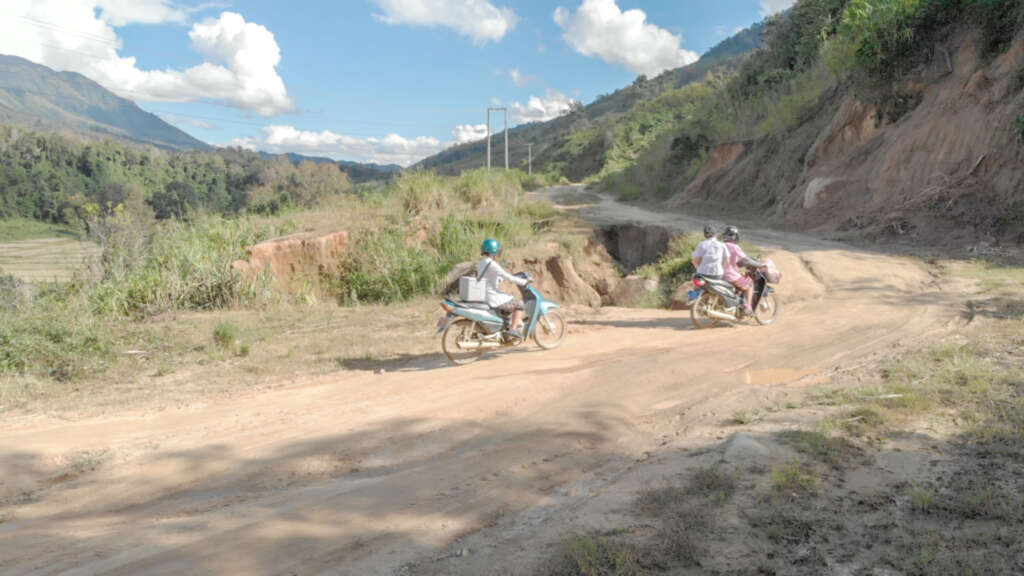 Dr Thialor and her team on their way to visit Namsak village in Bolikhamxay province. Photo credit: HUMA
…we want to make the hospital services come to them; regardless of their social status, no one is excluded from the outreach services.
(Dr Thialor)
Besides financial constraints and behavioral barriers, poor road conditions and lack of transportation means are causing important challenges for villagers to visit hospitals. Therefore, Dr Thialor and her nurse-team quarterly travel to villages in their target area to provide outreach mother-and-child care. They visit nearly each household to ensure that no child is deprived of vaccination and deworming tablets and that each pregnant woman receives a health check-up. Her aim is that communities living in remote areas have access to basic primary health care services.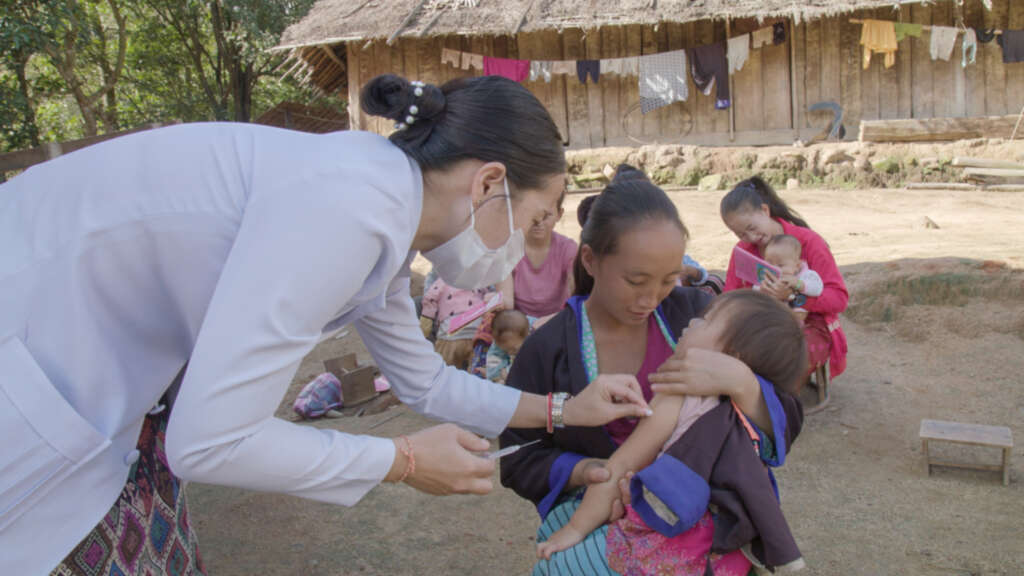 Dr Thialor during one of her community outreach activities in a remote village in Xaychamphone district, Bolikhamxay province. Community outreach activity in Bolikhamxay province. Photo credit: HUMA
Dr Thialor highlighted that the specialisation in Family Medicine was specifically relevant for working directly with communities in rural areas. She has been doing this work now for several years, and her commitment to integrated family health care grows even stronger. Being a mother herself and being able to speak the same language as most of her patients have helped her to gain the trust of her patients and hence to provide more people-centered services.
Delivery at the Xaychamphone district hospital, Bolikhamxay province. Photo credit: HUMA
I want to see everyone in the community healthy, especially mothers and their children.
(Dr Thialor).
Community outreach activity in Namsak village, Xaychamphone district. Photo credit: HUMA
Dr Thialor is also proud that her studies and the scholarship programme have helped her to gain more confidence in her management abilities and have enabled her to take on a leadership role within her team to improve the district hospitals' performance. She expresses the wish that more young doctors, especially women and health workers from remote districts, have access to scholarships helping them to improve the health of women and children in their communities.
Discover more about Dr Thailor:
Luxembourg funded Scholarship Programmes
The Lao-Luxembourg Health Sector Support Programme Phase II (LL-HSSP II) supports the goals set out by the Ministry of Health (MoH) as presented in its Health Sector Reform Framework (HSRF) 2013-2025. The HSRF has identified various priority areas, among which human resource capital development is prioritised.
Indeed, the significant shortage of specialists in clinical disciplines, especially at the district level, is one of the major challenges affecting the quality of health services in Laos.
Accordingly, the LL-HSSP II places capacity strengthening, a key component for building a resilient health system, at the center of its intervention strategy. The strategic Human Resource Capital Development (HRCD) initiative and specifically the Luxembourg funded scholarship programmes aim at increasing the availability of clinical specialists and skilled health staff in three central provinces, 28 districts and around 200 health centers.
The LL-HSSP II offers training opportunities for health personnel through a mix of short and long-term scholarship programmes to increase the number of skilled staff, but also addresses the skill-mix imbalances of qualified health staff in the three provinces of Vientiane, Bolikhamxay and Khammouane.
Since 2015, Luxembourg Development Cooperation, through the LAO/027 programme, has offered 430 scholarships. Among these scholarships, 37 long-term scholarships were specifically aimed for medical doctors from provincial and district hospitals who wished to obtain a Family Medicine specialisation at the University of Health Sciences.
It should be highlighted that more than 60 percent of the Luxembourg funded scholarships have been awarded to females and efforts are being made to ensure that young women, specifically from ethnic minorities and volunteers have the opportunity to take part in the scholarship programme. Supported graduates must serve at least three years in designated health facilities where the shortage of staff is high.
A budget of 2 million EUR has been allocated so far for the implementation of the HRCD between 2017 and 2022.
The Lao-Luxembourg Health Sector Support Programme Phase II (LAO/027) is co-financed by the Government of Lao PDR and the Grand-Duchy of Luxembourg and is implemented by the Lao Ministry of Health and LuxDev, the Luxembourg Development Cooperation Agency.
↑ Haut de la page