LAOS - Tourism and Hospitality Training Hits Top Gear
The Skills for Tourism Project (LAO/029) is boosting its tourism and hospitality training throughout Laos in 2020 with the aim of upskilling more than 1 400 people working in the sector through a variety of programmes.
High on the agenda stands the Customer Service Training, led by the Institute of Mass Media, Culture and Tourism (IMCT). With different programmes for managers and staff, IMCT will train more than 600 industry professionals in Customer Service across 12 provinces, in partnership with the Provincial Departments of Information Culture and Tourism.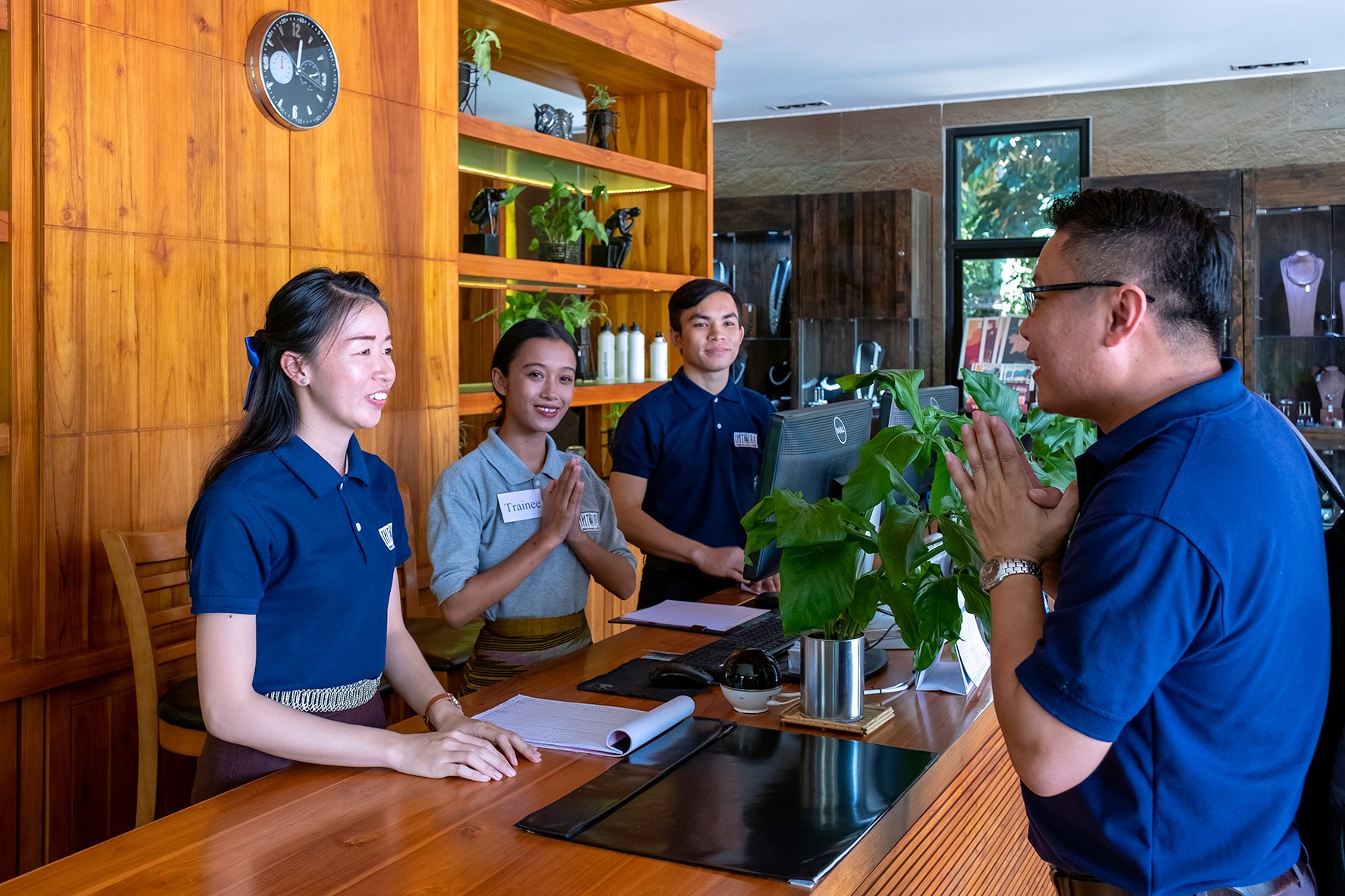 Learning by doing: Front desk staff receiving upskilling training by industry leaders as part of the Pheun Than Heng A Sip (PTHAS) Training Programme, © Swisscontact.
"The programmes have been designed with external expertise to cover the essentials for managers and their staff to provide a quality customer experience to their guests," said IMCT Trainer Boutsaba Chansomphou. Throughout the year, Ms Chansomphou and her team of trainers are delivering these three-day courses which are based on ASEAN common competency standards for tourism professionals.
In addition to the customer service programmes, IMCT are delivering trainings on employee life cycle management for human resources and general managers to understand and see the importance in the different employment stages their staff experience.
"The employee life cycle consists of the six different phases an employee goes through before, during and after working for an organisation," explains IMCT Lead Trainer Douangchay Phothichack. "Reflecting on such processes is important as it paves the way to quality employment and a more productive tourism and hospitality sector." These stages run from offering an attractive workplace, targeted recruitment, and assisting new staff in adjusting to the company, to employee development, retention, and separation.
Building on the momentum generated by the Visit Lao-China year campaign in 2019, IMCT have also launched the China-Ready Training Programme which is in full swing, as trainers provide local businesses with information on Chinese outbound tourism, how to better access this market, and ways to tailor products and services to meet the needs of Chinese tourists.
"Developed in partnership with COTRI (the China Outbound Tourism Research Institute), modules have been adapted to the Lao context," emphasised IMCT Trainer Lae Keoluangta. He added, "We continue improving the capacity of our trainers through online classes by COTRI and the Hong Kong Polytechnic University to learn about the effects of COVID-19 on the Chinese tourism market and post-virus travellers' needs and expectations."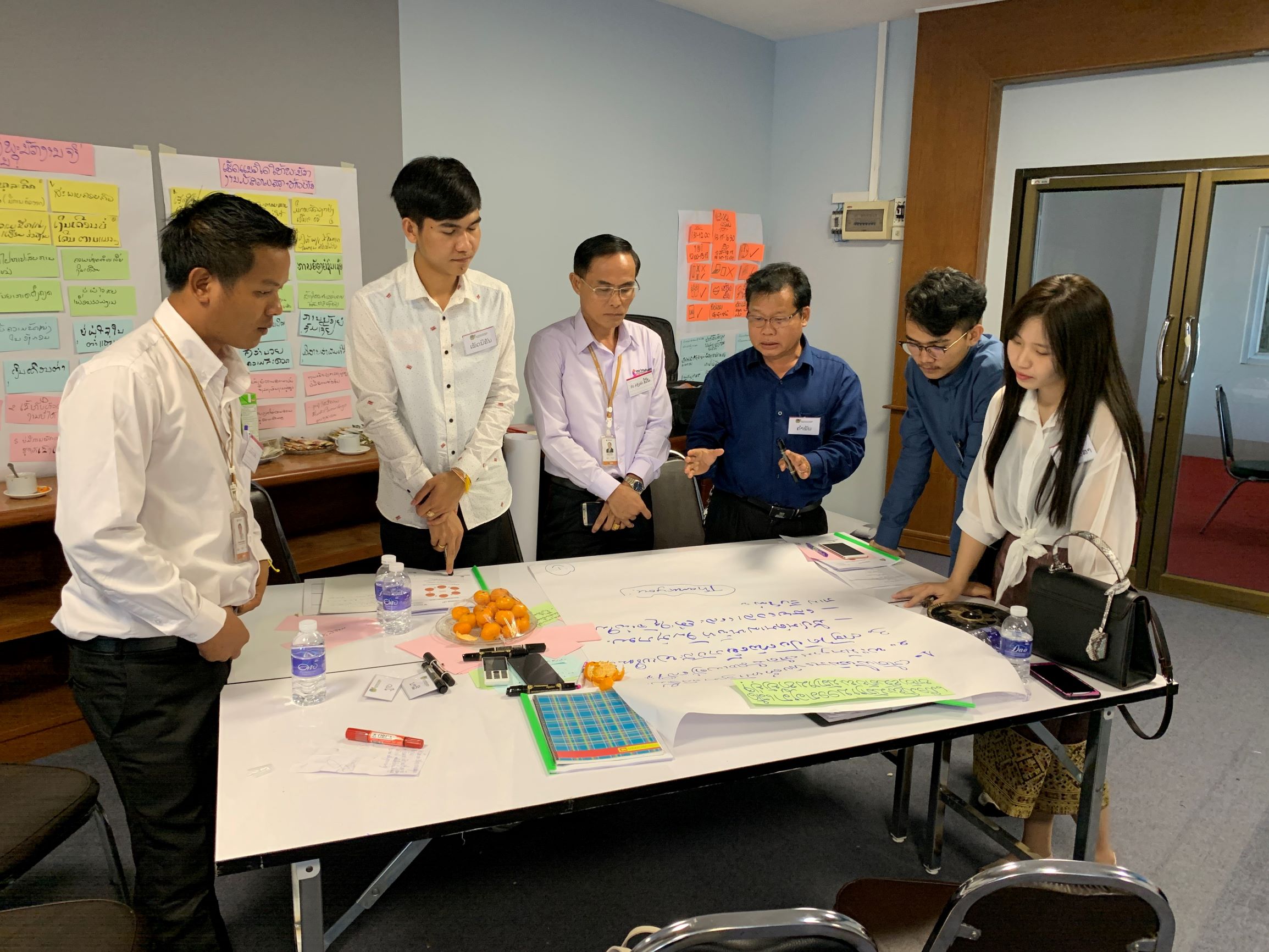 HR Managers reflect on the different employment phases their staff experience during the Employee Life Cycle Management Training in Pakse, Photo by EDC.
In response to the COVID-19 pandemic, IMCT are also conducting COVID-Awareness Training for 100 micro and small tourism and hospitality businesses, so that they clearly understand the guidelines on COVID-19 prevention as issued by the Ministry of Information, Culture and Tourism (MoICT), and to build consumer confidence. Kicking off in Vientiane, the half-day programme trains businesses in establishing practical health and safety measures.
The training is delivered onsite and IMCT provides businesses with a COVID prevention kit consisting of posters to educate staff and customers, thermometers and an initial inventory of facemasks, cleaning gloves, hand gel and cleaning disinfectant. Upon completion of the training, businesses sign a commitment to implementing these practices and receive a certificate which can be used for promotional purposes.
Alongside the partnership with IMCT, the Skills for Tourism Project is also working with Swisscontact, eight provincial hotels associations and the Lao Hotel and Restaurant Association in driving the Pheun Than Heng A Sip (PTHAS) Training Programme. During 2020, Swisscontact will be building the capacity of these organisations to train around 300 junior staff working in micro, small and medium enterprises across central and southern Lao PDR on the basics of housekeeping, front office, food & beverage services and food production. Quality assurance support to the local associations is being provided by the School of Tourism and Hospitality at Pakpasak Technical College.
These upskilling efforts are further complemented by the Skills for Tourism Project's collaboration with DFICT, a respected Lao-owned company, which is currently in the process of training 420 staff on food and beverage, housekeeping and front office services in Luang Prabang, Vientiane and Vang Vieng, which is fully subsidised by the Project.
Upgrading bartending skills in Vientiane and Luang Prabang is another avenue supported by the Skills for Tourism Project. Andrew Mullins, the Spirit House Company Director, will be conducting four five-day intensive training programmes for up to 60 bartenders. Successful graduates receive a professional bartender certification endorsed by the United Kingdom Bartenders Guild (UKBG).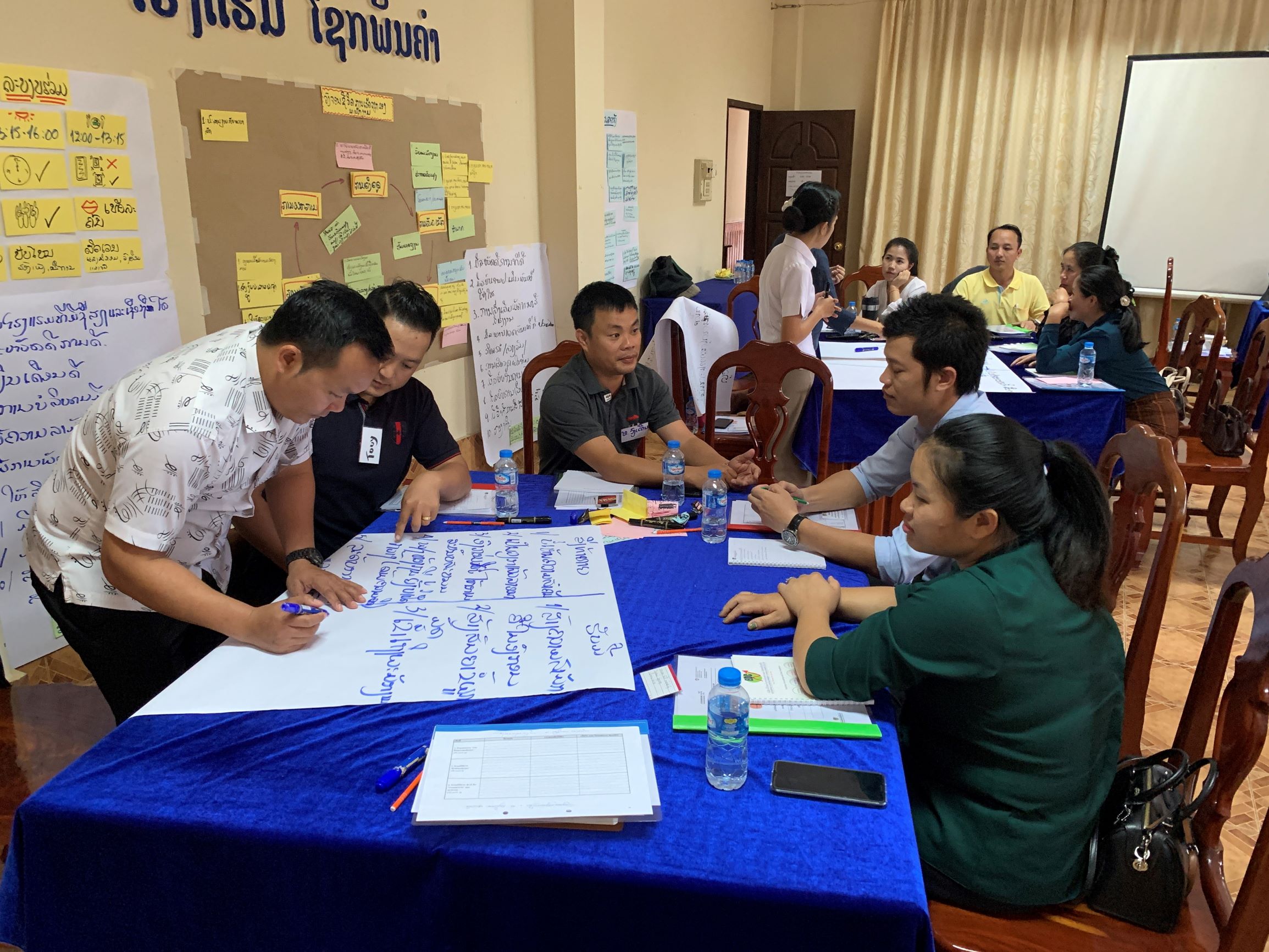 Employee Life Cycle Training participants working together on challenges their businesses face. Photo by EDC
Asked about the training programme, Mr Mullins, who has opened more than 100 high-end bars worldwide, elaborated: "The training program is a combination of interactive workbook theory and practical application that improves both the visible skills and background knowledge of the trainees. Our goal is to instill consistent, sustainable and professional bartending practices alongside exceptional service ideals."
He further explained, "Theoretical modules include cocktail and spirit knowledge and the bartender's contribution to guest experience, while practical classes take place behind the bar with constant hands-on coaching and appraisal to inspire confidence and maximise knowledge retention." The first classes are scheduled for 21-25 September in Luang Prabang and 5-9 October in Vientiane, with additional dates to follow.
With the COVID-19 situation bringing difficult times to tourism and hospitality businesses in the Lao PDR, these training opportunities are provided either free of charge or at heavily subsidised prices to help support businesses in the sector, through the LAO/029 project, which is co-financed by the Governments of Lao PDR, the Grand Duchy of Luxembourg and Switzerland, and implemented by the Ministry of Education and Sports of Lao PDR and LuxDev, the Luxembourg Development Cooperation Agency.
↑ Haut de la page