LAOS - The country gets "China Ready"
The Institute of Mass Media, Culture and Tourism (IMCT) launched the China-Ready Training Programme on 25-26 December 2019, in Vientiane Capital to provide local tourism businesses with information on Chinese outbound tourism, how to better access this market, and ways to tailor products and services to better meet the needs of Chinese tourists.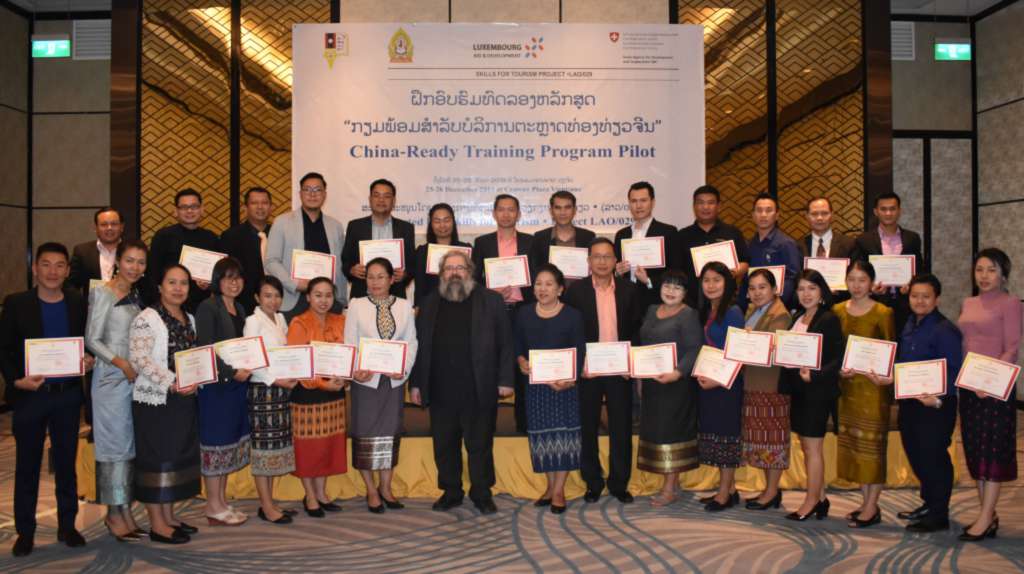 Photo by Vimaphone Phiou On
With the support of IMCT, the China Outbound Tourism Research Institute (COTRI) and its Founder and CEO Prof Dr Wolfgang Georg Arlt adapted the international China Ready Training programme specifically for the Lao market. At the organized seminar, he delivered China Ready's four-module pilot programme to more than 30 participants representing key public and private sector stakeholders.
As part of the build-up to this event, COTRI trained 12 trainers from IMCT who will go on to deliver the China-Ready programme in Luang Prabang and Vang Vieng in January, before rolling the programme out to a further six other provinces during 2020.
IMCT Lead Trainer and Curriculum Developer Bouavanh Soukhathammavong said, "The objective is to provide information about the Chinese market to attract more visitors, who spend more money. Businesses should know how to satisfy the different needs of the Chinese market."
China Ready comes on the heels of a successful Visit Laos-China Year 2019, said IMCT Deputy Director Darany Phommavongsa. "The programme's launch in Vientiane Capital seeks ways of welcoming more Chinese tourists, while contributing to the economy."
Deputy Director Darany emphasised that tourism businesses need to evolve. "We need to get them ready. This is very important. Businesses must understand what products and services the Chinese want, and what they spend on. They also need to learn how to attract the Chinese market. How do we get them?"
The first of the four modules that make up the China Ready programme focuses on China's outbound tourism development and current situation, with a spotlight on Laos and the Mekong region. The session provides demographic data and information about the Chinese market. The second module explores best practices in hospitality, customer service and catering to Chinese tourists.
The third module zeroes in on creating products for different niche Chinese market segments and adapting existing ones, including how to offer Chinese mobile payment systems.
The final module of China Ready explores communication and distribution channels, especially on social media, and how to connect with distribution partners in China. The training is in Lao language, and participants receive a Certificate of Attendance.
The China Ready Training programme is supported by the Skills for Tourism Project • LAO/029, which is co-financed by the Governments of Lao PDR, the Grand Duchy of Luxembourg and Switzerland, and implemented by the Ministry of Education and Sports of Lao PDR and the Luxembourg Development Cooperation Agency (LuxDev).
↑ Haut de la page