VIETNAM - Workshop on the Financial Conglomerates Supervision
Danang has recently witnessed the first training workshop on the Financial Conglomerates Supervision in Vietnam under the framework of Project VIE/032 – Capacity Building in Finance Sector. The intensive three-day training, from 27 to 29 August 2018, was jointly held by Project VIE/032 and Vietnam's National Financial Supervisory Commission (NFSC).
Despite NFSC being the only institute assigned for Financial Conglomerates supervision in Vietnam by the Prime Minister's decision since 2015, with a specialised Financial Conglomerate Department being responsible for 8 potential financial conglomerates (if so-called) (i.e. 7 bank-holding companies & 1 insurance corporation), the Vietnamese regulatory regime for a financial conglomerate is currently basically an institutional approach with separate requirements for banks, securities firms and insurance companies. Until a national supervisory framework or concrete guidelines for financial conglomerate supervision are available, a number of potential risks threaten the financial market in Vietnam. It has become an urgent need for NFSC to get updated with latest information and shared with knowledge and skills by one of the experienced conglomerate supervision example countries within the region. Experts from both public regulators and private sector on Conglomerates from South Korea (Korean Financial Supervisory Services, Shinhan Financial Group, and one of the top professors on risk contagion within Financial Conglomerates from Dongguk University in S. Korea) were therefore chosen as speakers and facilitators for the workshop.
The training workshop draw attention from various financial institutions and entities. In addition to majority of participants coming from NFSC, the rests were from Ministry of Finance, State Securities Commission, Insurance Supervision Authority, Central Economic Committee, Economic Committee of National Assembly, financial and economics academy/university/college, as well as from banking sectors (State Bank of Vietnam and other state-owned commercial banks).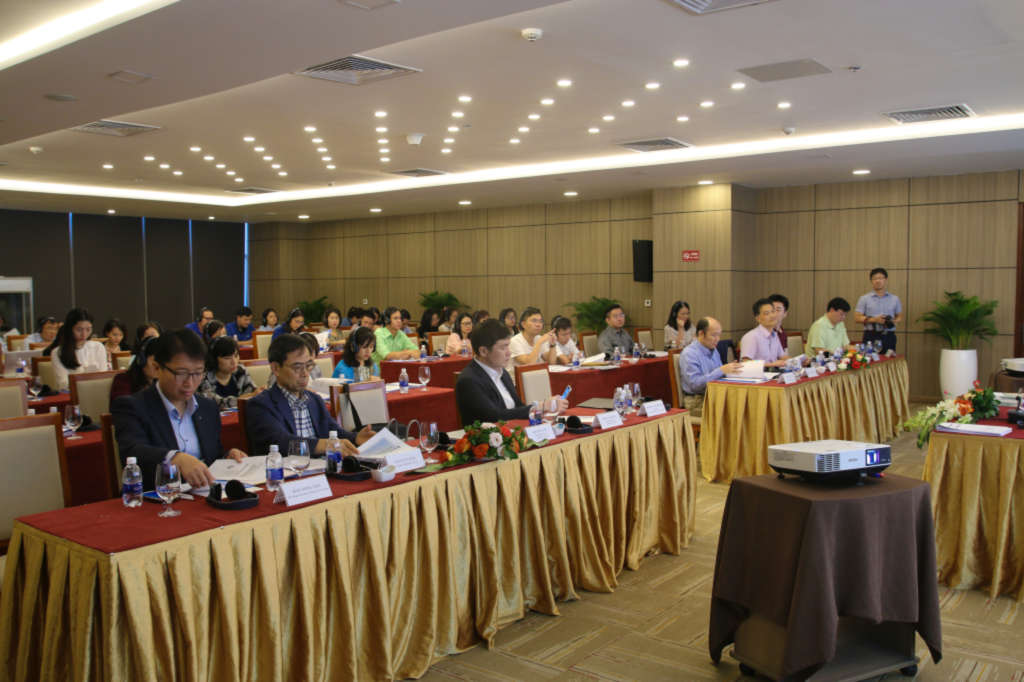 Issues exchanged in the event have been of great interest for all participants, which covered from legal issues such as building up legal frameworks for conglomerates, conglomerates identification, international supervision and examination standards (criteria, information collection), reporting regulations and typical models to technical matters as risk contagion, information sharing and feasible problems/challenges to be resolved; study cases were also shared by the speakers.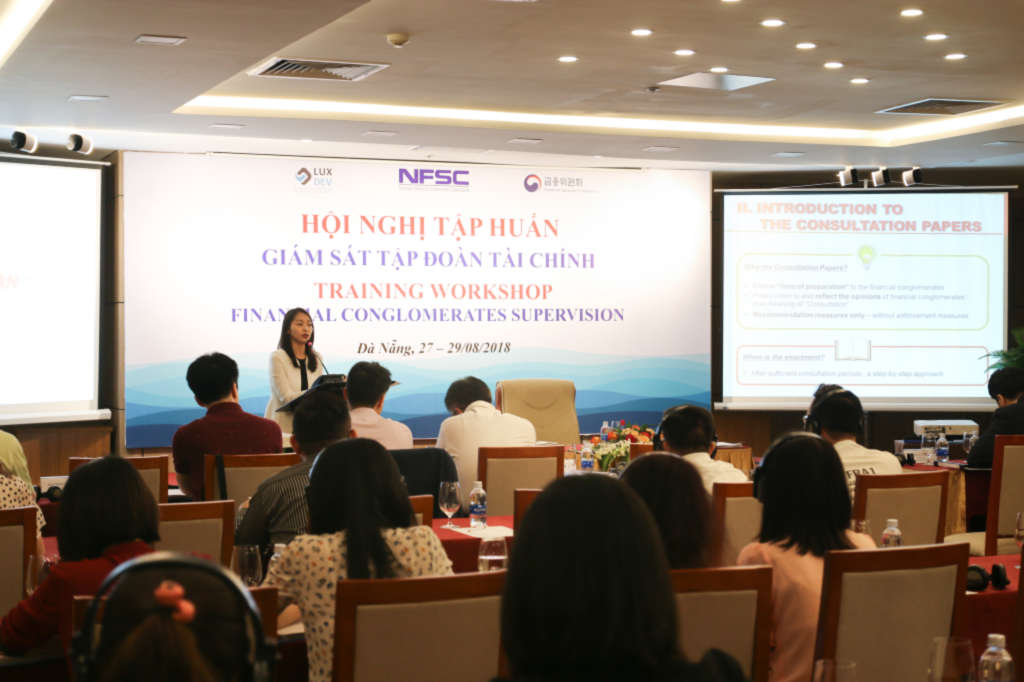 NFSC's Deputy Manager of Conglomerates Supervision Department, Mrs. Thi Minh Nguyet NGUYEN, shared her view that the three-day event has satisfactorily reached her expectations: "The training is quite useful with loads of information; the presentations and discussion focus right on the knowledge blanks I wanted to fill".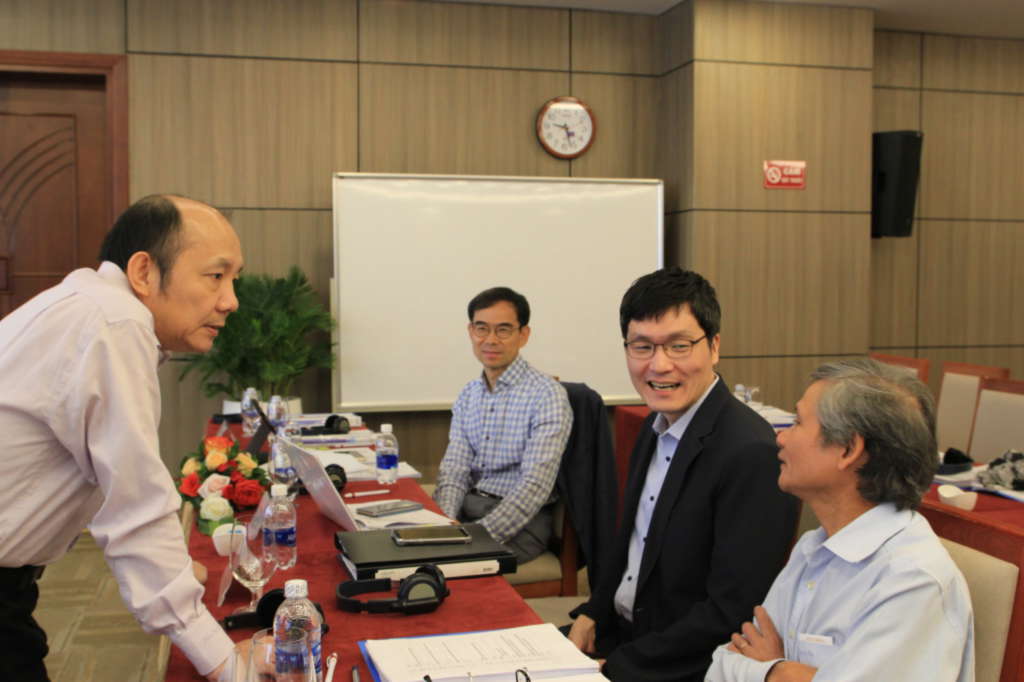 Mr. Huy Tuan HA, Vice Chairman of the NFSC, expressed his appreciation of the training contents and highly valued the support from Luxembourg to this event, saying: "the support from Luxembourg's government through the activities of Project VIE/032 is very much appreciated. With that, we could grasp a dear opportunity to have our staff's knowledge widened and skills sharpened, which clearly helps improving the capacity of NFSC's personnel on this absolutely important subject."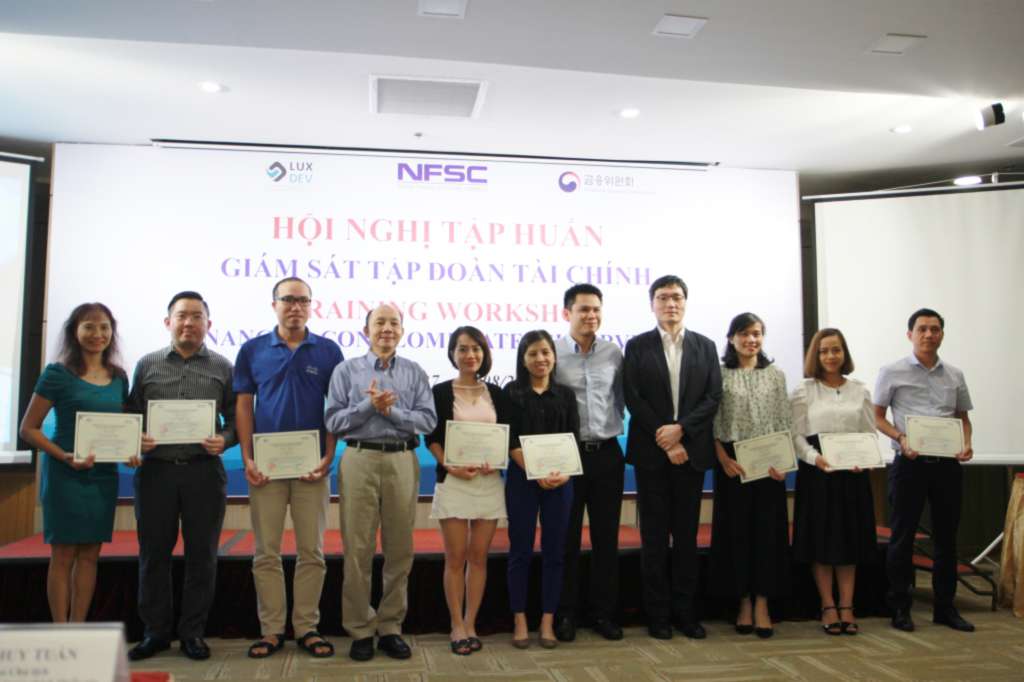 After the training, the NFSC is expected to "step by step strengthen its conglomerate supervision activities by consolidating supervisory and examination criterion with more detailed and systematic guidelines in data collection and calculation, providing further trainings for Conglomerates Supervision Department's staff, improving supervision data infrastructure, reinforcing information sharing mechanism amongst relevant departments, and continuing seeking for international technical assistance in development of supervision processes/criteria in line with both international practices and Vietnam's circumstances", said Mr. Tuan.
↑ Haut de la page