Vietnam - Equal learning opportunities for all at Kindergartens in Thua Thien Hue Province
"As early childhood education is about laying a sound intellectual, psychological, emotional, social and physical foundation, it has an enormous potential in fostering values, attitudes and skills that support sustainable development." (UNESCO 2008 - the contribution of early childhood education to a sustainable society. Available at: http://unesdoc.unesco.org/images/0015/001593/159355E.pdf)
Project VIE/033 implemented a series of activities in an effort to improve the livelihoods of some of the most vulnerable people in the project's three target districts, i.e. women and children in resettlement areas.
Following the historic 1999 flood that killed more than 800 people and caused heavy damage to property and infrastructure, Thua Tien (TT) Hue's provincial government issued a series of policies on land resettlement to avoid further risks caused by natural disasters. As part of that policy, more than 3,000 so-called 'Sampan' households, who used to live on boats, were given land by the government and a modest fund to build their new homes.
In spite of these efforts, however, many such former boat people have been struggling with issues related to land ownership, both for living and cultivation, as well as in terms of access to income-generating activities and public services, such as health care and education. Today, resettled families account for 30% of all vulnerable households in Quang Dien, Phu Vang and Phu Loc district, and those that are not already registered as a 'poor' or 'near poor' household have a high risk of falling back into poverty, especially in densely populated areas which have seen an intense degradation of resources and are increasingly prone to natural disasters.
In response, project VIE/033 inter alia supported 22 kindergartens located in poor coastal and lagoon areas, attended by 4,633 children including 1,043 from resettlement areas, with outdoor toys and class materials for improved early childhood learning. Due to budget constraints, schools had been facing difficulties in meeting national education standards, and helping to equip these schools with toys and learning materials allows for a healthy environment for comprehensive growth and development, while giving attending children from resettlement areas a level playing field as well. Further, the project also helped fund the construction of six kindergarten extensions with additional shelter, to give communities more protection and safety against typhoons and floods in those flood-prone areas.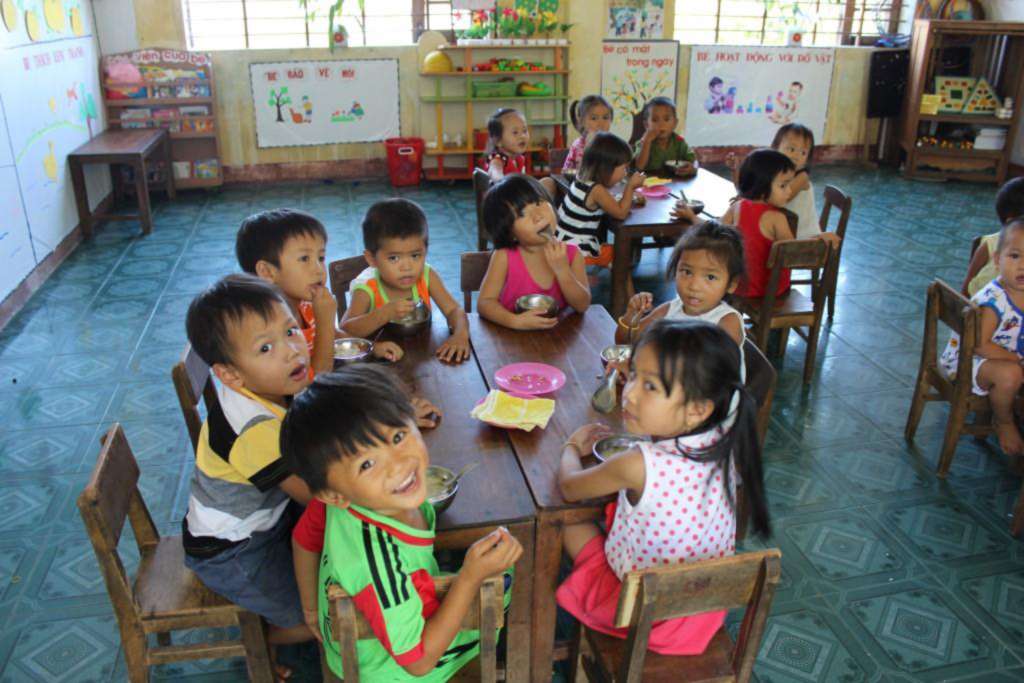 Children enjoying lunch at a kindergarten in Quang Dien district, one of 22 kindergartens supported by VIE/033
When it was first built, Thuy Lap kindergarten could not accommodate any large number of children of kindergarten age. The school was in shortage of well-lit, ventilated and furnished classrooms, had very poor latrines and was thus unable to provide a proper learning environment. In such poor conditions, the children from the nearby resettlement areas, in particular, suffered a great deal of difficulties and did not have equal learning opportunities as compared to the children in other schools in the commune. The wretched conditions of classrooms did not only affect the quality of teaching and local children's learning, but also proved to be unsafe during extreme weather conditions.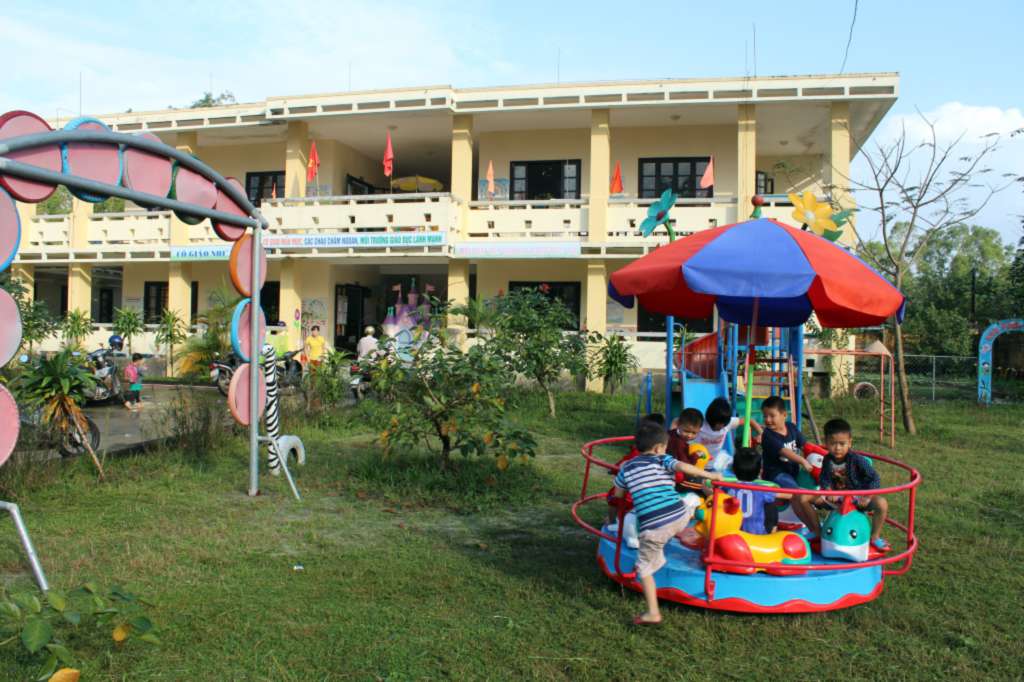 Children playing with new outdoor toys supported by VIE/033 at Vinh Thai kindergarten, Phu Vang district
As says Ms Hang, kindergarten vice-principal, proudly: "The new two-storey building now accommodates 100 children between the ages of two and five, providing them with equal access to improved learning conditions. They are now looked after in a state of the art setting that meets national standards and also protects them in times of adverse weather conditions".
In addition, she added that the school's improved capacity and learning conditions have also encouraged more parents, particularly those living in surrounding resettlement areas, to send their children to the school, thus contributing to another project goal i.e. empowering mothers and allowing them to engage in income-generating activities.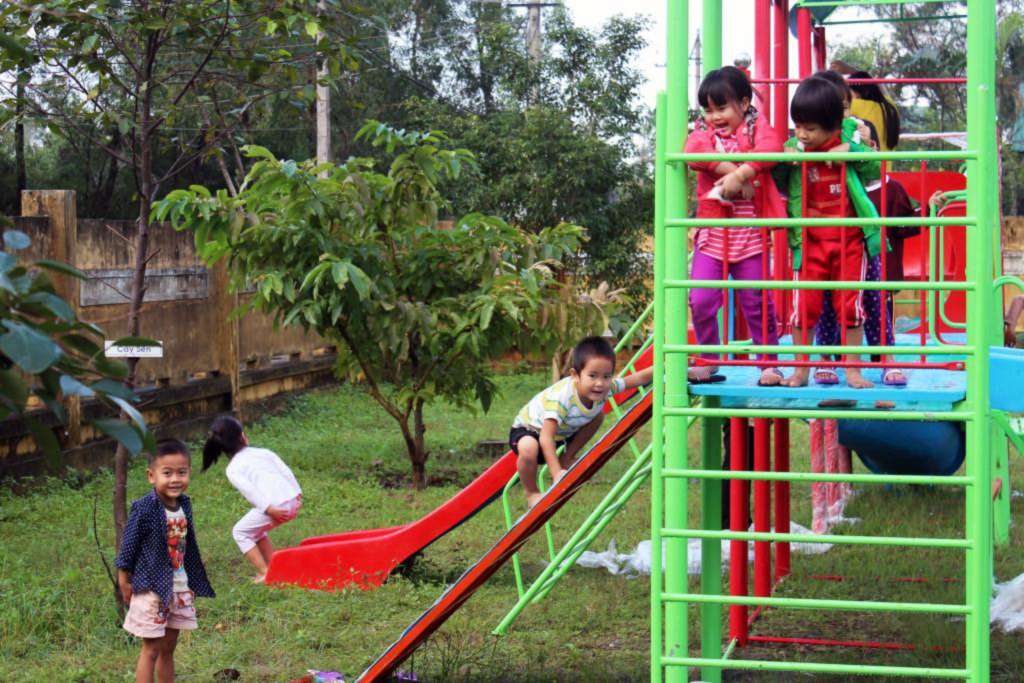 So says Ms Linh, resettlement resident and mother of a five-year-old kindergartener: "I used to be very busy with raising pigs and bamboo weaving and the school was too far away, so I did not have the time to bring my children to kindergarten. Now, I can cycle there every morning and pick up my son at 4pm. And while he is busy at school playing with his friends, I can focus on my work. My son is happy at the school and we feel safer now".

Father and son looking over the Cau Hai lagoon from a resettlement area in Phu Loc district, Thua Thien Hue Province
↑ Haut de la page