Lanith Luang Prabang Hosts Open House
LUANG PRABANG – Lanith Luang Prabang (LLP) hosted an open house on 28 February to introduce its new hospitality training centre to some 150 guests, including Lao ministry officials, government department directors, local business owners, and a large delegation from Luxembourg along with dignitaries from several neighbouring countries.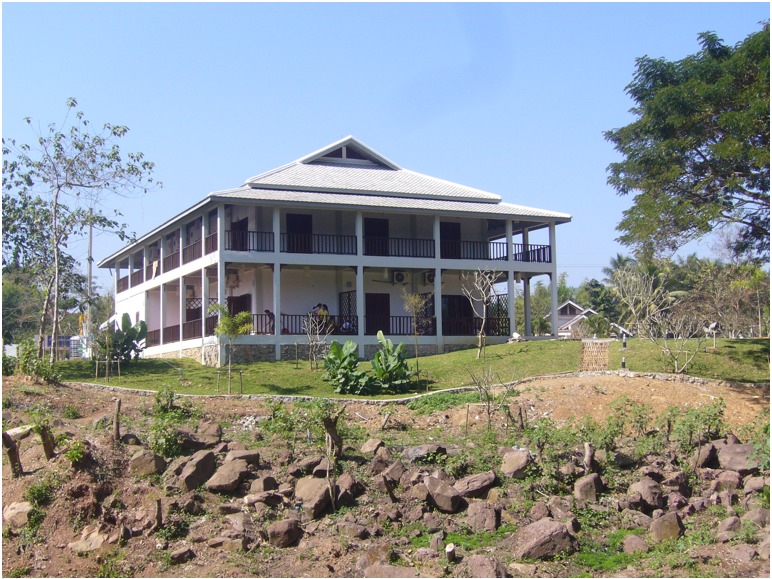 Luxembourg Embassy Chargé d'Affaires Marc Franck, Ministry of Planning and Investment Deputy Director General Houmphanh Soukprasith, Director General of Provincial Industry and Commerce Somphong Pradichith, and Technical and Vocational Educational Training (TVET) Department Director General Nouphan Outsa cut the ribbon to the Luxembourg government-supported facility, which aims to advance service quality in Laos.
Lanith Chief Technical Advisor Peter Semone said, "This open house affords Lanith the opportunity to present Luxembourg's innovative approach to hospitality training and education. Most important is to handover a fully operational, successful, sustainable social enterprise to Laos."
Lanith Technical Advisor, Industry Training, Mike Loose and Manager on Duty/Lanith Core Team Member Chounlachan "Nickie" Phengdy guided guests to LLP's meeting room, Balcony Bar & Restaurant, and four guestrooms, revenue from which will fund the sustainable operation of LLP's skills training centre and award-winning Passport to Success programme, which is another source for funds.
Lanith provided 200,000 EUR for LLP's construction, while Hong Kong Polytechnic University donated 50,000 USD in kitchen equipment. Lanith Core Team Members oversee the operation of the hospitality complex and training centre.
Mr Franck stressed that cooperation is also essential for LLP's expected success, and noted that many in attendance appeared eager to not only support this sustainable enterprise, but also actively participate in its operation.
We need to be competitive and have a solid marketing plan like other Luang Prabang properties.

Mr Loose, the architect for Lanith's Passport to Success
Mr Semone noted that the Ministry of Education and Sports' (MoES) Ban Khoy location, about 3.5 km from the city's tourist hub at the Nam Dong Bridge en-route to Kuang Si Waterfalls, is well situated to attract business events, tour busses returning from the falls, overnight guests seeking accommodation in a "real" Luang Prabang neighbourhood, and cyclers looking for refreshments and great river-and-mountain views just a 15-minute pedal from town.
He also outlined LLP's pre-opening phase. During the low tourist season from March to September, LLP will concentrate on its extended Passport to Success "Go for Gold" skills training programme for local hospitality staff, while also revving up its banquet facilities. The hospitality training centre's well-equipped meeting room can accommodate up to 36 persons. Organizers can choose from a selection of set menus for coffee breaks and meals.
LLP's four guestrooms are also ready for guests. Minimalistic décor, snug beds, a naturally cool breeze or air-conditioning, and sizeable balconies characterize all rooms, while each presents distinct layouts and pretty views.
LLP's signature venue, the 60-seat Balcony Bar & Restaurant, is set to fully open in October, though the outlet, decked out in local wood furnishings and encircled by a wide terrace, can be reserved for special events.
↑ Haut de la page