LAOS - New ophthalmology unit and laundry department at the Bolikhamxay Provincial Hospital
A. Improving access to eye care services in Laos
The Lao-Luxembourg Health Sector Support Programme (LAO/027) has been working in partnership with the Fred Hollows Foundation in Lao PDR since 2018 to develop ophthalmology capacity in the three provinces of Vientiane, Bolikhamxay and Khammouane.
As part of its overall objective of reinforcing the scope and the quality of curative ophthalmological services in the three Luxembourg-supported provinces, project LAO/027 has renovated the old ophthalmology unit of the Bolikhamxay provincial hospital. After 14 months of renovation works, the new Ophthalmology Surgical Department opened its doors in July 2020. The renovation costs, including the medical gas system for the anaesthesia unit, amounted to EUR 135 000.

New Ophthalmology Unit, Bolikhamxay Provincial Hospital, July 2020, © LuxDev
The new Ophthalmology Surgical Department of the Bolikhamxay provincial hospital delivers eye health services for the whole province, composed of 7 district hospitals and 41 health centres.
The establishment of an Ophthalmology Surgical Department is an important achievement for Bolikhamxay province and its population of 325 000 people. Today, the hospital provides care and treatment services, including services for eye-related diseases and conditions, from general problems to treatments that require the expertise of specialists.
Since the opening of the new ophthalmology unit, there has been 12 cataract surgeries and three 3 other eye related operations.

Cataract surgery, Bolikhamxay Provincial Hospital, July 2020, © LuxDev
More specifically, the ophthalmology unit offers the following services: comprehensive vision testing, eye examination services, cataract surgeries, treatment of disorders of the lacrimal system or of the orbits among others.
Cataract surgery
The leading cause of blindness in Laos are cataracts (clouding of the normally clear lens) and this represents an immense public health and socioeconomic problem. Indeed, a loss of vision has not only a negative impact on a person's quality of life, but it also engenders economic loss, leads to unemployment, and causes an increase in welfare costs.
Cataracts are commonly associated with ageing, however, not all patients suffering from a cataract are old. In fact, the average age of cataract surgery patients at the Bolikhamxay provincial hospital is 50 (as of July 2020).

Cataract surgery, Bolikhamxay Provincial Hospital, July 2020, © LuxDev
It is important to highlight that even though cataracts are one of main causes of blindness and visual impairment in many developing countries, cataracts can be operated before a loss in vision leads to blindness and it consists of a short operation of approximately 20 minutes. However, the major barriers for more surgeries are:
lack of awareness of eye health care services;
lack of accessible and affordable surgeries;
general fear of cataract operations among communities;
uneven distribution of eye health facilities; and
limited number of qualified eye health personnel.
Taking the above-mentioned into consideration, it is not only important to implement the appropriate structures to deliver eye care, but it is also important to provide accessible, quality and affordable eye surgeries, to raise awareness on eye health in remote areas of the country, and to increase the number of trained health personnel.
Infrastructure and eye care equipment
Besides the renovation of the building, the LAO/027 project has also provided a new ophthalmology operating theatre with equipment worth a total amount of EUR 90 000 (i.e. slit lamp, ophthalmic microscope, A/B-Scan and anaesthesia workstation).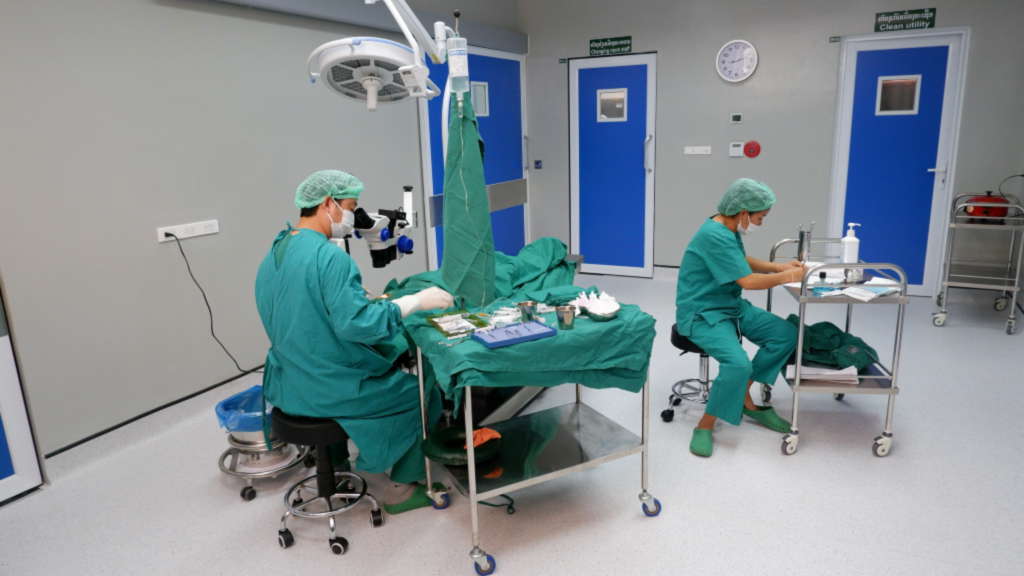 New ophthalmology operating theatre, Bolikhamxay Provincial Hospital, July 2020, © LuxDev
Human resources for eye health care and capacity development
The new ophthalmology unit of the Bolikhamxay provincial hospital currently employs one ophthalmologist and two ophthalmology nurses (both nurses followed a special eye care training for four months at the National Eye Care hospital in Vientiane Capital).
Besides the provision of infrastructure and equipment, project LAO/027 also supports capacity development through various short and long-term scholarships. The LAO/027 project offers scholarships for the following programs/ training courses:
short-term training for nurses and medical doctors (courses in ophthalmologic nursing; courses on visual impairment and blindness); and
long-term scholarships for medical doctors (one year for basic eye doctors; three years for Ophthalmologist Specialist Residency).
Currently, one eye doctor from the Bolikhamxay provincial hospital is following an OSR course (Ophthalmology Specialization Residency). He has finished his first year at Thammasat University in Thailand and is currently continuing his final academic year at the University of Health Sciences in Vientiane and at the National Ophthalmology Centre. He is expecting to complete his training in September 2021.
Outreach activities
The key to preventing avoidable blindness and visual impairment is improving the delivery of surgical eye care services in the Lao PDR as well as enabling more people to access quality and affordable eye care.
However, a great part of the population, particularly in remote and the poorest areas of the country, are not aware of eye health and eye diseases. Thus, informing communities about eye care, avoidable blindness as well as raising awareness on the availability of services, is crucial.
In this regard, project LAO/027 supports outreach activities in the three central provinces of Vientiane, Khammouane and Bolikhamxay. Due to the coronavirus COVID-19 pandemic, there were no outreach activities between January and June 2020. However, in previous years, the provincial ophthalmologist went on field visits to provide clinical supervision support at the district level and to find cases in remote areas of the country that required a cataract surgery.
B. Safety, cleanliness and the opening of the new laundry department
Besides the new Ophthalmology Surgery Department, the LAO/027 project has also renovated various other departments of the hospital, including the laundry building. The new laundry department is operational since the 6th of July 2020.

New laundry building at the Bolikhamxay Provincial Hospital; Soaking sink and drying racks, July 2020, © LuxDev
Ensuring good hygiene is a priority in a hospital. Therefore, renovating the building and installing modern laundry equipment is important in order to save power and water but also to avoid that any infection is passed through the hospital clothing or linens.
The laundry building ensures the supply of clean clothes and linens for the operating theatres (OTs), the delivery rooms, the emergency unit, the five (5) patient wards as well as for several outpatient department (OPD) consultation rooms (around 25 units).
On average, 110 kg of dirty clothes and linens are washed per day. The laundry department manages the: changing of linens; picking up of dirty clothes; disinfection, cleaning, drying, ironing and distribution of the clothes and linens to the corresponding department of the hospital; sewing of bed and instrument wrapping sheets; and repairing of teared linens.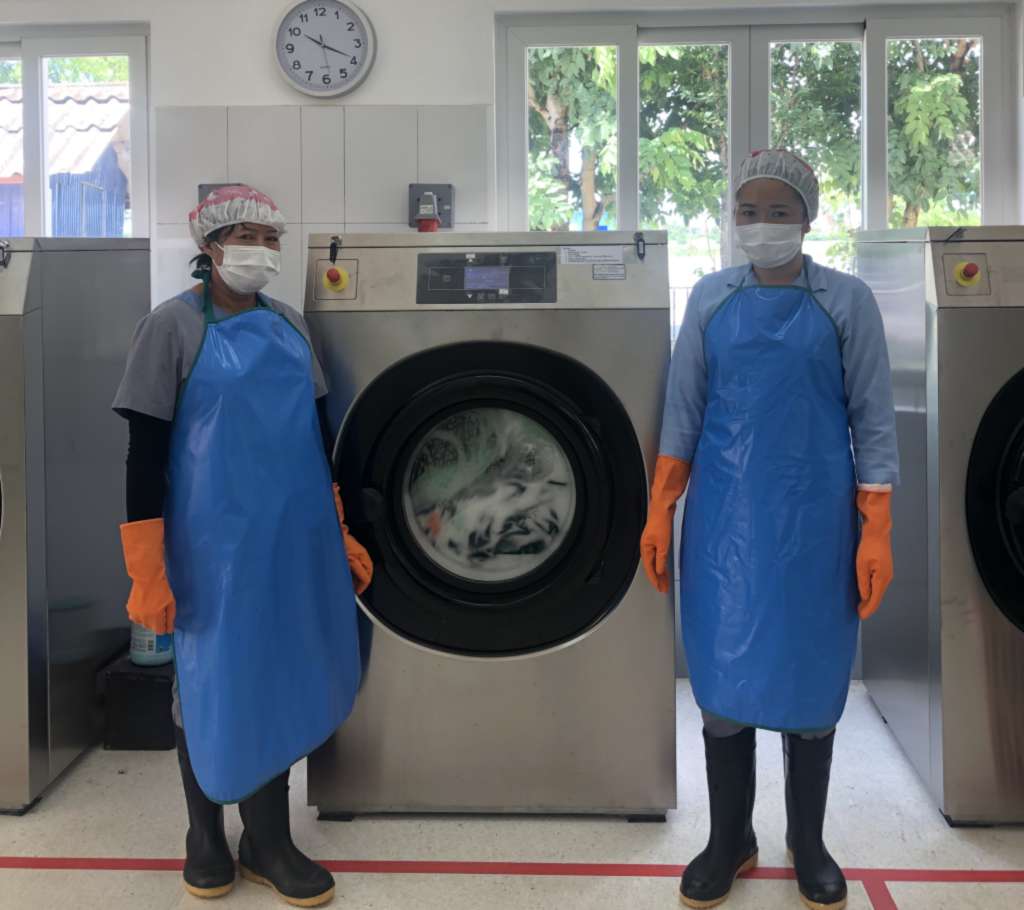 Laundry team responsible for keeping the hospital clothing and linens clean, Laundry building at the Bolikhamxay provincial hospital, July 2020, © LuxDev

Distribution of clean clothes and linens, Bolikhamxay Provincial Hospital, July 2020, © LuxDev
The new laundry department has been equipped with laundry equipment including washer extractors, dryers, irons, and sewing tables.
↑ To the top