Luxembourg re-affirms development partnership with Kosovo
(Published by the Ministry of European Integration, Kosovo)
On 30 November 2015 a High Level Partnership Commission between the Government of Kosovo and the Government of Luxembourg took place in Luxembourg.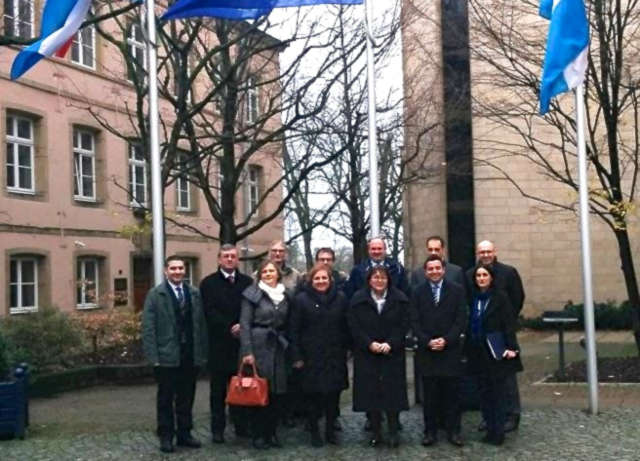 During the meeting, the delegations discussed the progress and challenges in the implementation of the Luxembourg assistance in Kosovo in the areas of vocational education and training, health as well as water and sanitation.

Regarding the health sector, delegations discussed the health sector strategy and establishment of the Health Information System. For the education sector, progress has been reviewed in the operationalization of the Vocational Education & Training Agency and Centers of Competence. In the water sector, Kosovo confirmed co-financing of joint infrastructural projects, whereas the Luxembourg delegation asked for courageous steps to be taken in the improvement of water management in Kosovo. Delegations also discussed future technical assistance, potential support to civil society and potential exchanges between Kosovo and Luxembourg universities.

The Head of the Kosovo delegation, Mr. Ramadan Ilazi, Deputy Minister of European Integrations said: "Luxembourg has continuously been a strong supporter of the Kosovo European integration agenda. Furthermore, Luxembourg has allocated around EUR 24 million to support the efforts undertaken to reform Kosovo. Three sectors of our joint work are some of the key Government priorities in the years to come".

The Head of the Luxembourg delegation, Ambassador Ms Martine Schommer, Director, Department for Development Cooperation and Humanitarian Action, Ministry of Foreign an European Affairs of the Grand Duchy of Luxembourg said: "Luxembourg remains strongly committed to Kosovo's development and EU integration. A new four-year development program will be designed for the period 2017-2020 aiming to support Kosovo's development strategies in various sectors (including health) and to strengthen Kosovo's civil society".

Luxembourg welcomed today the ratification of two agreements in the sectors of health and water by the Assembly.

Luxembourg will have granted Kosovo EUR 48 million of assistance in the period between 2013-2020.

The next High Level Partnership Commission will take place in Pristina in 2016.
(Ministry of European Integration, Kosovo)
See more at: http://mei-ks.net/en/news/luxembourg-re-affirms-development-partnership-with-kosovo#sthash.9Y4mMgXJ.dpuf
↑ To the top