Laos – Young, poor and remote are no longer barriers to secondary school enrolment
LAO/024 Khammouane Local Development Project (KHALODEP) successfully awarded scholarships to 26 selected students of the three project target districts: Boualapha, Mahaxay and Nakai in Khamouane province.
These scholarships are intended to strengthen human potentials and career alternatives through secondary school enrolment support and technical and vocational training. They are specifically aimed at supporting marginalized households whilst ensuring equal access for boys and girls (gender mainstreaming). Indeed the scholarships focus on increasing and ensuring access, enrolment and retention to secondary schools in the target villages.
Pupil signs her enrolment for the scholarship
Although primary schools are operating in each village, or located at a distance affordable for parents to send their children to, this is not the case for secondary schools. Those are less widespread, often offering fewer classes, too far away or simply overcrowded. The attendance by girls and, in some cases, also boys is limited by the family needs in labour and lack of income to make ends meet.
KHALODEP scholarships outreach was made possible through the dynamic collaboration between the project team and the provincial and district Departments of Education and Sports as well as the representative from Thakhek Vocational Training School. All the target districts lower and upper secondary schools were visited with a total of 581 applications received. After screening, which included visits to 114 households, 26 scholarships were granted to students (14 of whom were girls) who best matched the criteria related to poverty and ethnicity.
In the process, two lessons were learned: i) to attract scholarships for vocational training and not only for secondary school education, a different promotion strategy has to be followed next year, and ii) to receive applications from households who currently can't afford to send their children to secondary school at all, the promotion should not be channelled through the villages' schools and the village authorities but through direct contact with these households.
From 20 to 22 October 2015, in an official ceremony, the Vice-Governors of Mahaxay, Nakai and Boualapha have handed over the scholarship awards to the students and their parents.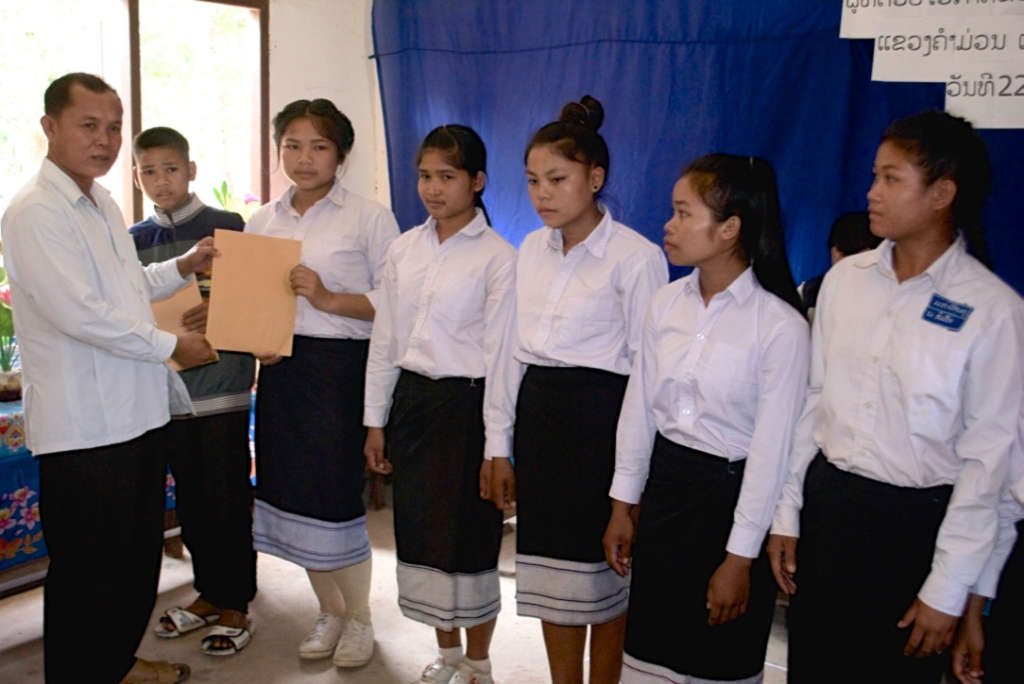 This activity will be replicated next year and hopefully more applications will be processed to offer disadvantaged youngsters a better outlook on receiving education and even a vocational oriented training.
↑ To the top