A recent collaboration between the Luxembourg Development Cooperation, the Swiss Development Cooperation and Irish Aid celebrated the successful completion of English language training. The programme was developed and implemented by Vientiane College and Celtic School of English (Ireland) for 28 tourism and hospitality technical and vocational education training teachers coming to Vientiane from 15 public vocational institutions across the country. The programme adapted to many difficulties, with all parties working together to overcome the difficulties presented by the global pandemic in order to facilitate a new training programme that offered much more than originally intended.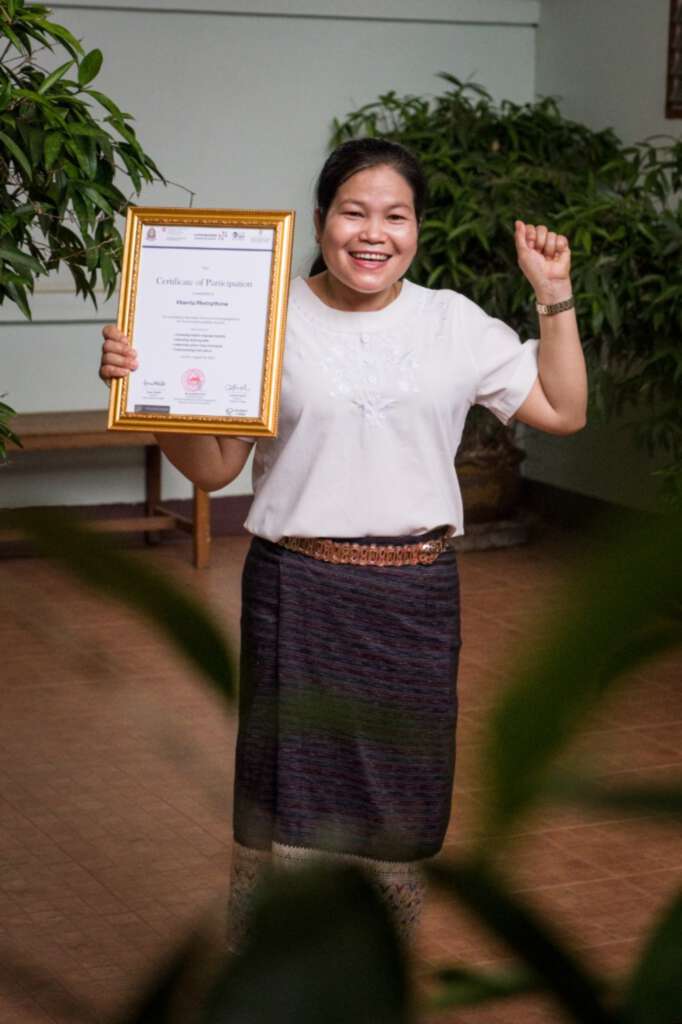 Ms Khamla Phetsythone from Luang Prabang Technical College brandishing her new English language programme certificate. Photo credit to Matthew Dakin
The training programme was first envisaged as a four-work week language and cultural immersion programme where the Lao teachers would live with host families in Tralee, Ireland, study at the Celtic School of English and take part in work placements in early 2020. This was initially deferred to 2021, however the ongoing pandemic and travel restrictions made this impossible.
In a new setting a new methodology was decided which would feature a blended approach. Therefore, the teachers took part of a mix of face-to-face classes in Vientiane College, combined with online learning facilitated by the Celtic School of English. This new model not only featured online platforms such as Zoom, Google Classroom and Kahoot, but also educated the teachers in how these technologies can be used in their own classrooms.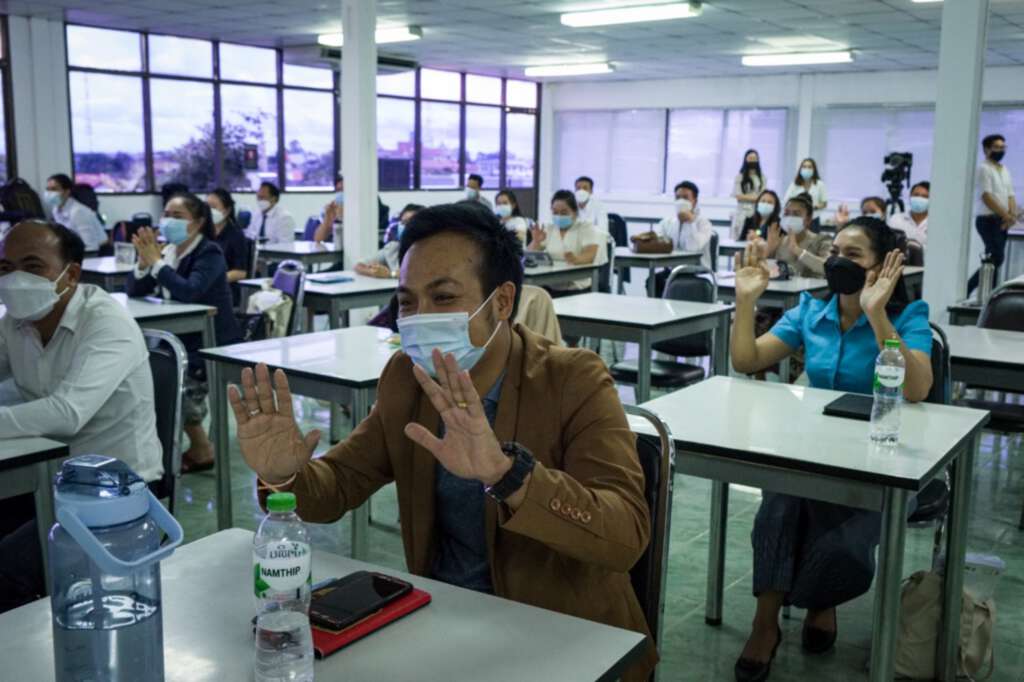 Students waving goodbye to Anne O'Keefe, Director of the Celtic School of English in Ireland, who joined the graduation ceremony via Zoom to wish the participants well. Photo credit to Matthew Dakin
"To us, it was clear that we wanted to find a way in spite of COVID to accompany the teachers on their English language journey" said Catherine Woods, Director of Administration at Vientiane College. "The goal was also to introduce teachers to ways in which they could potentially teach their own classes through an online approach which is becoming increasingly necessary as a way to adapt to COVID-19.''
This format was new to many of the Lao teachers, however they were guided through the process by the English teachers from both schools. The Lao teachers were provided with a tablet computer to access the online platforms and were mentored in how to use the devices. Classes had a strong emphasis on interactivity and engagement, with Saturday sessions focusing on engaging with Irish culture through interactive activities facilitated through online platforms.
This method proved to be a big hit with the teachers.
It's been great not just to upgrade my English skills, but also to learn how to teach English in a fun and effective way in my own classroom or even online – for instance, through songs, imitating real-life scenarios or even quizzes, which is also how we were taught about Irish culture, which has been one of my favourite parts of the entire programme.
Ms Khamla Phetsythone, Luang Prabang Technical College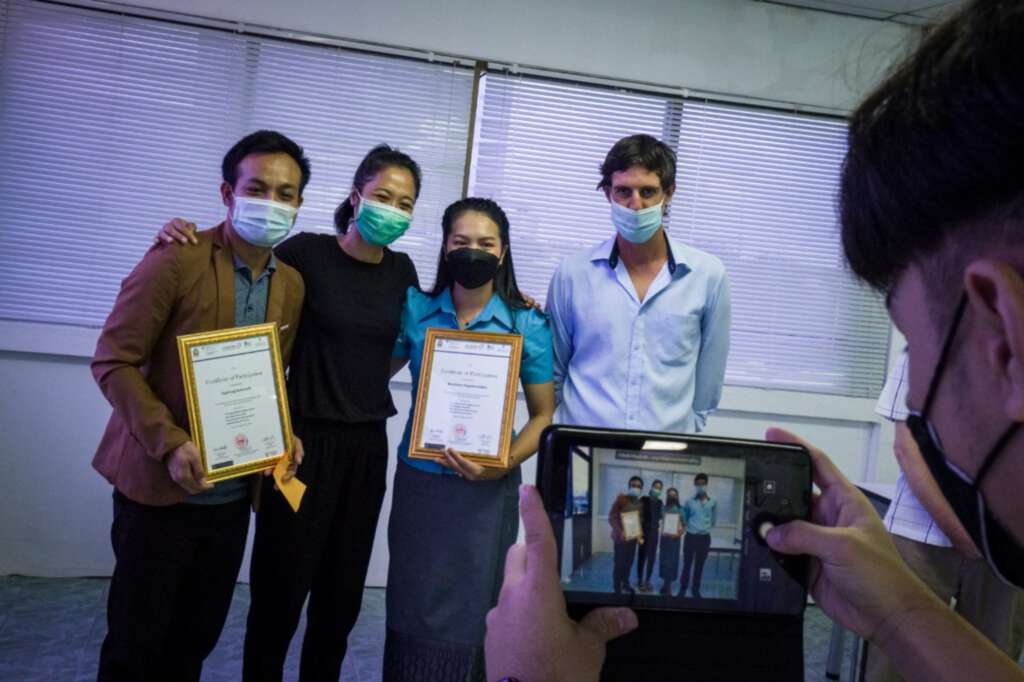 Training participants seized the opportunity to capture photos with their English teachers who acocmpanied them on their English Language journey over the past five weeks. Photo credit to Matthew Dakin
By all reports the course has been a great success. The new skills that the teachers have gained go well beyond the language and cultural immersion originally envisaged by the programme. Due to the successful collaboration between all parties, the trainee teachers have also finished the programme with a new appreciation and understanding of exciting new ways of teaching. These online platforms will no doubt be key to further enhancing the quality of learning TVET tourism and hospitality students will receive on their way towards shaping the future of Lao tourism.
The English language training programme was supported by Irish Aid and the Skills for tourism project (LAO/029), which is co-funded by the governments of Lao PDR, the Grand Duchy of Luxembourg and Switzerland, and implemented by the Ministry of Education and Sports and LuxDev, the Luxembourg Development Cooperation Agency.
↑ To the top