Vietnam – Discovering best practices in community-based ecotourism
Study Tour to Quang Nam Province
On 5 and 6 June 2017, VIE/033 organised a two-day study tour to three community-based ecotourism (CBET) models in Quang Nam province. The primary objective was to offer potential homestay service providers in the project target districts of Phu Loc, Phu Vang and Quang Dien in Thua Thien Hue province insights into how such models have been established and are managed. This tour followed-up two previous visits in 2016, one to Quang Nam province and one to Myanmar, for leaders from the government tourism and planning departments as well as private tour operators.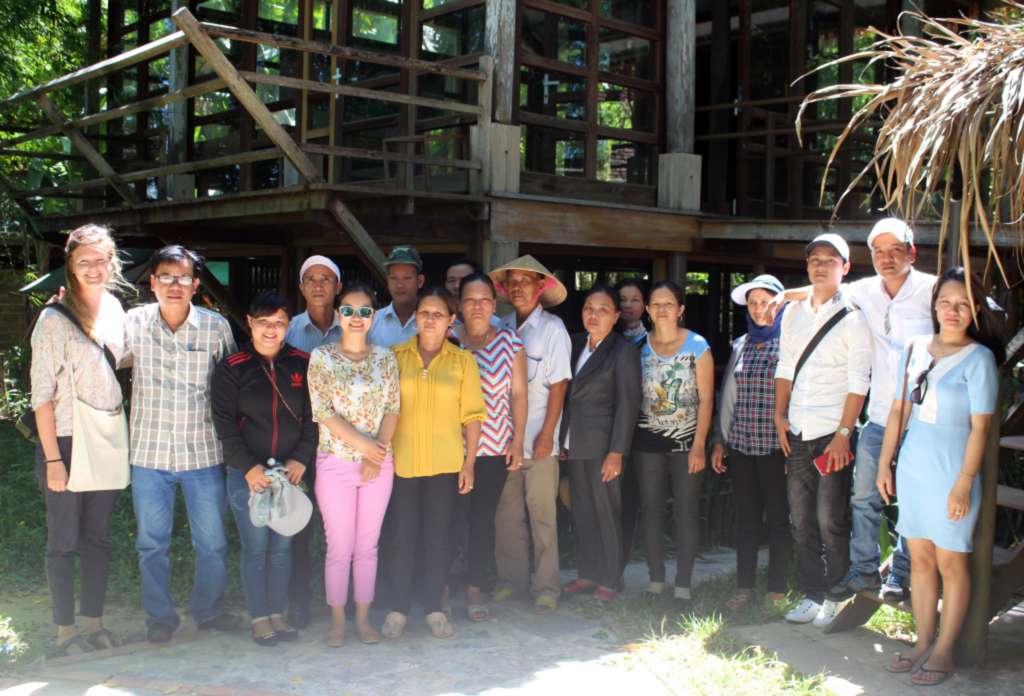 Within the context of the need for Thua Thien Hue people's adaptation to climate change, and considering the presence of the Tam Giang-Cau Hai lagoon as a unique asset, VIE/033 considers CBET as a major potential growth industry that could diversify people's activities and incomes, and increase their resilience.
The study tour aimed at providing households in Loc Binh, Phu An and Quang Ngan communes, selected for CBET piloting, with additional knowledge and experiences from successfully implemented CBET models in neighbouring Quang Nam, in order to improve their understanding and skills to provide professional CBET services, while also protecting and preserving the unique natural heritage of the Tam Giang-Cầu Hai Lagoon, the largest of its kind in Southeast Asia.
The study tour participants first visited Triem Tay in Dien Ban district, where six years ago hundreds of villagers were forced to abandon their homes due to serious erosion. Today, however, the area is thriving again and the sunken river bank section has been transformed into a picturesque ecotourism destination, located only a short drive or boat ride away from the famous UNESCO World Heritage town of Hoi An. The site is now protected by a 'green' dyke - a system with combined layers of concrete foundation, soil, grass and water. Visitors have the possibility to get hands-on experience in weaving, community gardening, or fishing, and can stay with local families as well.
Another Luxembourg-funded and ILO-implemented project in Dong Giang district aims at promoting more balanced growth, using tourism as a vehicle for poverty reduction in remote rural and mountainous areas. Bho Hoong and Dhroong villages officially launched their community-based tourism services in June 2013. Visitors can explore ethnic minority culture and thus help villagers have new and more stable sources of income. Bho Hoong village allowed study tour participants to try some "Co Tu" staple food, such as sticky rice served in bamboo cylinders, and enjoy a dance and gong performance in front of the central "Goul" house, while Dhroong village offered an insight into the ancient practice of weaving, for clothing as well as building.
During the wrap-up discussions, the Hue participants identified several challenges to be addressed in developing CBET in their own localities, while also highlighting the great potential of the Tam Gian-Cau Hai lagoon area. According to Ms Linh, homestay service provider in Phu An, "CBET is about exposure to traditional livelihoods, and the local households are the key subjects providing visitors with an insight into our daily life."
The homestay providers felt inspired by the different activities at Triem Tay, Bho Hoong and Dhroong villages. Ms Ngoc, from Phu Vang district, suggested that they "could organise some unique and conventional recreational activities for visitors, such as crafting conical hats, producing rice wine, preparing typical spotted fish pancakes, or assist in the preparation of fishing nets and joining fishing activities -- while enjoying the sunrise or sunset over the lagoon."
A number of local government representatives shared some of the lessons they had learned regarding the promotion of products and services, and management skills required in community-based ecotourism, and they assessed to what extent the mechanisms of sharing the benefits of CBET activities in the Quang Nam models between the local community, tourism enterprises, and local authority were successful.
Following this sharing and learning opportunity, the participants will now be better equipped to propose and implement tourism activities and products adapted to their respective CBET sites in the Tam Giang-Cau Hai lagoon. They are also expected to be more aware of the importance of ensuring good management and cooperation between homestay owners and private sector service providers, and ultimately offer an unforgettable experience to both local and international visitors.
↑ Haut de la page